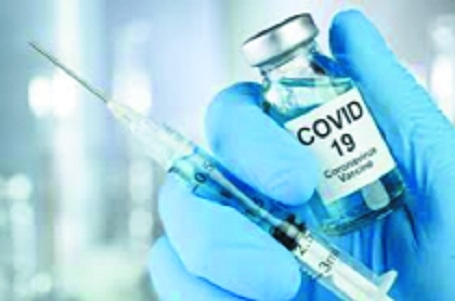 By Sagar Mohod :
Data from railway hospital failed to reach NMC, thanks to delay on part of administration
Delay on part of the administration of Central Railway's divisional hospital in forwarding list of its front-line workers led to doctors and staff missing the inoculation bus during the first phase of the drive. Countrywide health staff is prioritised for getting vaccinated to counter COVID-19 that wreaked havoc throughout the world. Since data from railway hospital failed to reach Nagpur Municipal Corporation (NMC), the staff is now unsure when their number would come for receiving the vaccine jab.
It may be mentioned that right now the hospital has load of 20 active COVID-19 cases among its staff, including a senior doctor, some nurses and other employees working in various sections. Despite that the casualness in nominating the doctors and other staff for vaccination programme is surprising. Habib Khan, Working President, National Railway Mazdoor Union (NRMU), in a communication with Divisional Railway Manager (DRM) Richa Khare expressed dissatisfaction over casual approach of hospital administration about front-line workers getting excluded from first phase of inoculation drive. He said on January 13, 2021, itself the railway staff was categorised as per designation for identification as front-line workers then why was the list not shared with civic administration. The exclusion of doctors and other staff was learnt when inquiries were made at nominated centre for vaccination.
One of the centres is at Central Railway Institute, Ajni, and a few staffers from hospital went there hoping that they would get the jab on January 16, the day nation wide persons in health sector got vaccinated. To their shock, the staff of civic body told the railway employees that their names are not mentioned in the list of beneficiaries provided to them by the administration. Then as further inquiries were made the fact dawned that the two persons tasked with updating and screening data of doctors, nurses, paramedic staff, pharmacists and other workers of hospital was not forwarded to NMC. NMC had time and against made appeal to all health establishment in city to provide information about number of Doctors, compounders, nurses, pharmacists, sanitary staff and other workers as the same is needed to work out vaccine requirement for city and shared with Central Government.
At railway hospital two Doctors were nominated by Chief Medical Superintendent (CMS) to prepare the list and forward the same to NMC as required. However sources said, one of the lady Doctor backed out from the task as she had doubts about efficacy of the vaccine. Sources said the Doctor contended that it would have been difficult to exclude her name during preparation of the beneficiaries list and hence choose to stay away from the task. CMS learnt about the exclusion when NRMU's letter reached senior officials in division and inquiries were made with him. As he went down to probe the shocking apathy of two Doctors came to fore, the sources claimed further.
The other Doctor who was tasked with sharing the names of beneficiaries for vaccination is learnt to have taken a stance that since one list was previously shared with State Government officials what was need to sending the same for second time. During the surge in COVID-19 cases, Doctors and nursing staff of Divisional Railway Hospital was nominated at various hospital in city that was nominated for treatment of COVID-19 afflicted patients. That time State administration had sought details of staff with hospital and same was provided thereon. When asked the divisional spokesperson S G Rao, Assistant Commercial Manager (Goods), citing talk with CMO denied any delay in sending list of beneficiary front-line workers with State administration. He, however, could not explain as to why then railway hospital staff was not covered in first phase of vaccination drive.