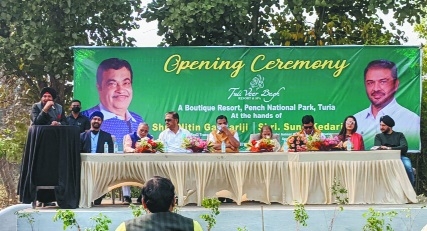 Business Bureau :
In a grand ceremony on Friday, Tuli Veer Bagh Resort at Pench National Park, Turia, Madhya Pradesh was inaugurated at the hands of Union Road Transport and Highways Minister Nitin Gadkari who was the Chief Guest of the the inaugural function. Maharashtra Minister for Animal Husbandry and Dairy Development and Sports and Women Welfare Sunil Kedar was the guest of honour. Kanchan Gadkari, MLA Ashish Jaiswal; Dr Dhal Singh Bisen, Member of Parliament from Balaghat; members of the Tuli family Vikram Tuli, Jasjit Singh Vijan and Gaganjit Vijan and others were among the prominent persons present on the occasion.
The resort is a boutique property with details for finesse and is laid out on an expanse of 5 acres with the architectural charm, a mix of both old and modern worlds. Gadkari appreciated the resort and applauded the efforts put in by Mohabat Singh Tuli in bringing quality living facilities to Pench National Park, Madhya Pradesh. He advocated the start of adventure sports along with jungle tourism and also mentioned that the feasibility of starting a sea plane facility is at an advanced stage which will prove to be a game changer for the region where access will become faster from all around the country. Always a progressive leader and thinker of new possibilities, Gadkari stated that this property will provide employment opportunities to the local population and will also contribute to the local economy. He also assured a highway for easy access to Pench.
While applauding the efforts of Tuli, Sunil Kedar said that he would be delighted if such ventures were done in his home state, Maharashtra too and also said that Tuli is an inspiration for the youth by starting a resort and working tirelessly at his age. Ashish Jaiswal in his brief address appreciated the work done and congratulated Tuli for the same. Tuli expressed his wish to make a resort every year in Maharashtra and get it inaugurated at the hands of Nitin Gadkari. Dr Urvashi Yashroy conducted the proceedings with charm and grace.