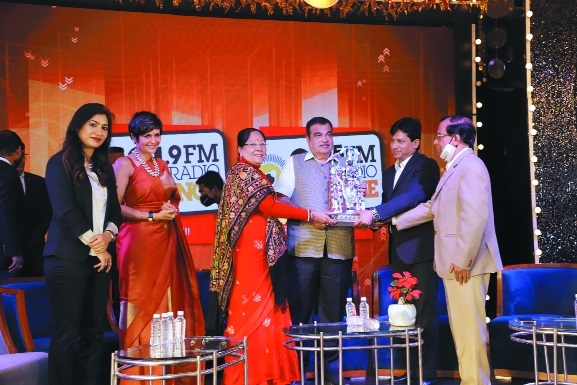 Jayanti Majumdar, J K Majumdar and Abhijit Majumdar felicitating Union Minister Nitin Gadkari during the Radio Orange Inspire Awards 2021 distribution ceremony. Bollywood celebrity Mandira Bedi and Inu Majumdar are also seen.
Principal Correspondent:
In a glittering ceremony held here at Hotel Radisson Blu on Sunday, Radio Orange Inspire Awards 2021 were presented to women entrepreneurs to celebrate their success in various fields. Women entrepreneurs from 40 different categories were identified for their exemplary work and were felicitated at the hands of Union Road Transport and Highways Minister Nitin Gadkari and Bollywood celebrity Mandira Bedi. Chief Executive Officer (CEO) Inu Majumdar; Social Worker Jayanti Majumdar; J K Majumdar; Managing Director of Abhijit Realtors & Infraventures Pvt. Ltd., Abhijit Majumdar and others were present on the occasion. It is worth mentioning that Radio Orange FM channel broadcasts its services in three cities namely Akola, Sangli and Bilaspur. Radio Orange is the first channel in the country whose Chief Executive Officer (CEO) Inu Majumdar is a woman. It is also worth mentioning here that Inu Majumdar is the youngest of all the Radio Channel CEOs of the country. In the 21st century, women have immensely contributed to the overall development of society and the nation at large.
In fact there are few sectors in which women are considered more effective and productive as compared to men. Increasing participation on women has given new meaning to success and has been instrumental in inspiring countless other women. Addressing the gathering, Gadkari said, "The concept of the programme is truly commendable. Rewarding the success of women entrepreneurs gives a very positive message to the society. The role of women in Indian society has always been very important but unfortunately their work doesn't get its due respect which it deserves. Half of the population of our society is women and if they are allowed to work with the right encouragement, they can change the destiny of the society and country at large."
Mandira Bedi, while expressing her feelings on the occasion said that "Being a woman herself, she understands the importance of such awards. When your works get appreciation from society, it inspires you to work harder and it becomes a source of inspiration for countless other women. Hence such award ceremonies are very important and should be held in every city." Inu Majumdar congratulated all the award-winning women entrepreneurs and hoped that the award would inspire them to do even better. Inu Majumdar also thanked all the sponsors of the programme, media houses and her co-workers for making the event a great success.