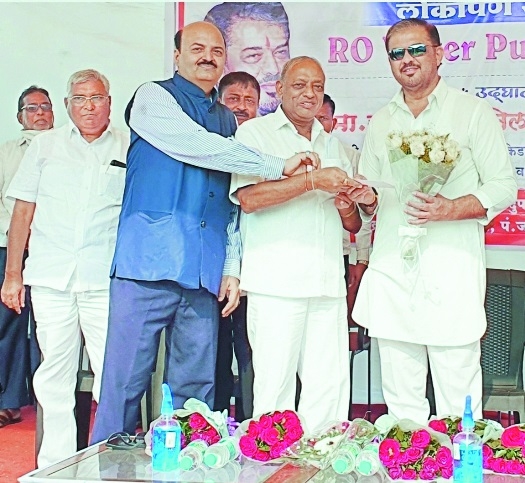 Business Bureau :
Maharashtra Minister for Animal Husbandary and Dairy Development and Sports and Women Welfare Sunil Kedar recently assured the farmers and traders that he will soon look into all the matters related to the New Grain Market, Kalamna and try to resolve it.
He said this while addressing the farmers and traders at the event held at Kalamna Market Yard in the city on Saturday. On the occasion, Santosh Kumar Aggarwal, President of The Wholesale Grain and Seeds Merchant Association, and Secretary Pratap Motwani felicitated the Minister by presenting a floral bouquet. The office-bearers of the association also handed over a memorandum highlighting the problems faced by the traders, farmers and visitors at the New Grain Market. After the event, a meeting was organised at the administrative building at Kalmana Market wherein the problems related to the New Grain Market were discussed with the Minister. Former Chairman Ahmedbhai Patel, Dhanya Bazaar President Atul Senad, Gopal Kalamkar, Corporator Prafull Gudadhe Patil, Arjun Wairagade, Raju Umathe, Ramesh Umathe, and APMC Secretary Rajesh Bhusari were among the prominent persons present on the occasion. Santosh Kumar Aggarwal and Pratap Motwani gave detailed information of all the problems of New Grain Market, Kalamna to the Minister Sunil Kedar in the administrative building.
Kedar gave a patient hearing to grievances of the traders and farmers and assured that he would solve all the problems in three months. Kedar also gave instructions to the concerned in this regard. Apart from this, Kedar said that soon the market cess in Maharashtra will be reduced. Also, transfer of shops in New Grain Market will be done quickly by legally registering them.
Shop electricity bills will also be reduced. Cold water RO machines would be installed and access to toilets and roads will be repaired in the market. Issues like businessmen suffering from token system would also be resolved. In addition to this, the shops will be allotted to the traders who are all ready in Kalmana market. The New Grain Market gate will also be opened soon. Kedar promised to solve all the problems at the earliest. Ashish Aggarwal, Ramesh Umathe, Shiv Gupta, Rajesh Madrani, Raju Kashikar, Praveen Shahu, Vicky Agarwal, Jayesh Shah, Suresh Agrawal and Arun Aggarwal were also present.