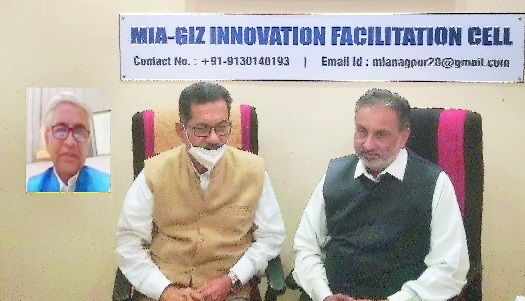 C G Shegaonkar (L) and Dr Ravindra Aher at the webinar. Milind Chittawar, speaker of the webinar (Inset).
Business Bureau :
GIZ India and MIDC Industries Association (MIA) Hingna in association with ISHRAE Nagpur Chapter recently conducted an exclusive free webinar on 'Energy cost reduction to improve profits in small and medium industries' by renowned energy expert Milind Chittawar, CEO of SEE-Tech Solutions, Nagpur. SEE-Tech Solutions is a Grade 1 ESCo (energy service company) having a rich experience of over 25 years in the field of energy efficiency and having done over 500 projects in various large and MSMEs throughout India.
The webinar was initiated by C G Shegaonkar, President of MIA Hingna, Nagpur, with a welcome note to the guest speaker and participants of the webinar. It was followed by an introduction of the speaker and remarks by Dr Ravindra Aher, Consultant - GIZ India. Dr Aher also shared with participants, the need and importance of the webinar in present business context.
Milind Chittawar initiated his presentation by describing the common activities that SME business conducts for improving its profitability in terms of sales, raw materials, manpower, and operations cost. He highlighted that energy cost contributes to around 15-40% in total operating cost of most SMEs. He shared outline of major energy intensive industries in India with scope of energy savings and shared some of the primary measures to achieve more than 20 per cent energy cost savings in SMEs.
Chittawar said, "Energy saving is need of the hour for industries. Energy cost saving is not one-time activity rather than it is a series of consistent efforts that is why SMEs should consider practicing holistic approach to energy cost savings which includes energy monitoring in the areas of demand side management, furnaces, boilers, electrical motors, compressors, cooling towers, heat exchangers, lighting and other energy utilising systems. He elaborated on how energy monitoring can help energy users to monitor energy consumption profile of the day, avoid losses due to low power factor, and pre-estimation of electric bill.
"It helps in getting insight on energy load profile through current load, maximum demand, current and voltage load profiles while making user aware on how the implemented energy saving projects are giving results month on month", he added. He shared some of the major projects that have been initiated by SEE-TECH Solutions since last 25 years of its inception and are successfully achieving the desired goal for reducing energy consumption; thus reducing energy costs and improving profitability of businesses. Chittawar answered the queries of participants. The webinar was summed-up by Ajay Pandey, President, ISHRAE Nagpur Chapter.