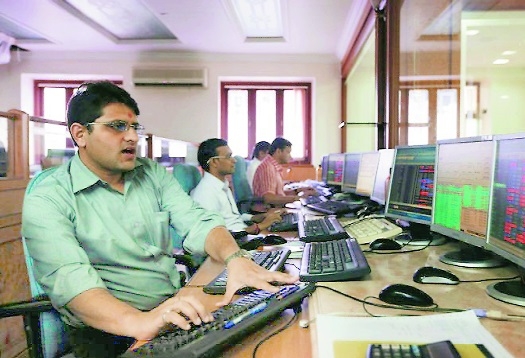 Business Bureau :
The Indian stock markets recovery from the lows hit in March 2020 has been remarkable. The S&P BSE Sensex has considerably recovered touching new highs, shrugging off the hangover of COVID-19, tensions over the India-China border stand-off and grim economic outlook, said CA Julfesh Shah, expert on share market while speaking to The Hitavada on Wednesday. He further said that investors should primarily stick to good quality large cap names with strong fundamentals rather than opting for second quality stocks on pretext of lower valuation. Shah added that it is expected that year 2021 would obliterate all the negative rhetoric around mounting worries and ground level economy may be seen returning to normalcy.
But the stock market may not show the same kind of buoyancy given that market has already ran ahead of its fundamentals. Therefore, year 2021 may be the period where one would see stock market and real economy aligning with each other, Shah said. He further opined that the year 2021 is likely to have a good start atleast in the initial couple of months wherein Union Budget, US new Government policy initiative and overall vaccine efficacy would be the key driving factors which will keep the sentiments elevated and markets bullish. Primary markets too are expected to remain hyperactive during this period. Anuj Badjate, Director of Badjate Stock & Shares Pvt Ltd said that investors should remains cautiously bullish for the year 2021 as there would be sharp corrections of not more than 10 per cent. These corrections would be short-lived. It may not be easy making money in 2021 as compared to 2020 where most of the stocks gave handsome returns after the steep correction in March 2020.
He advises investors to pick stocks wisely and invest in companies with strong fundamentals. He recommends IT and pharma sectors that have potential to double from current levels by the year end. Apart from this, he likes commodities such as steel. Commodity prices have crossed 2008 highs. Companies in commodities are looking good for further upside. If commodity prices sustain at these high levels stocks of such companies would provide good returns. He expects the Sensex and Nifty at 54,000 and at 15,000 levels by end of 2021, respectively. CA Varun Parakh, MD Kreo Capital said, "Indian Stock market is currently buoyant on the back of huge fund infusion by FII's/FPI's, unchanged repo rates by RBI and enormous liquidity made available to various industries. Though the underlying economic growth is anaemic, still market is brimming with optimism which reflects in high indices. This has led to Indian equities being a pricey bet but looks sustainable for next few years.
He further said, "The medium-to-long term outlook looks promising on back of steady reforms being done. Budget-2021 and inflation check will be cliff-hangers for the markets, as no strong technical support is observed in current rally." CA Sameer Bakre, feels that the investors should be cautious while investing in stocks as the market has witnessed strong recovery and are making new highs. He advises small investors to invest for the long term and choose stocks with sound track record. He strongly recommends investors to book profits periodically. "We will have to watch carefully the European and US markets after the launch of COVID-19 vaccine and its affect on Indian share markets. There could be a withdrawal of capital from Indian markets," he added.