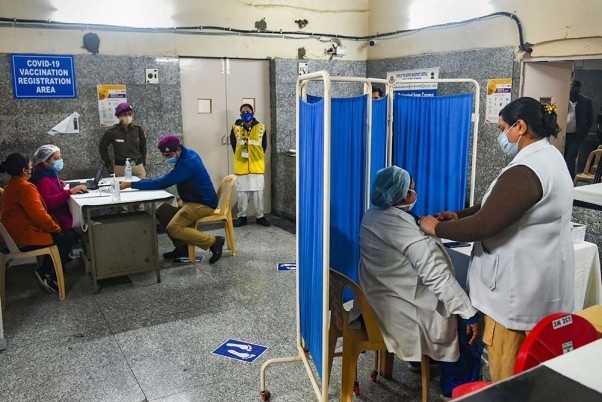 NEW DELHI,
"All the States and UTs are likely to receive first supply of COVID-19 vaccine shortly," said Health Ministry
THE Union Health Ministry has informed States and Union Territories that they are likely to receive the first supply of COVID-19 vaccine shortly and asked them to remain prepared to accept these consignments. In a communique, the Ministry said, vaccine will be supplied to the identified consignee points of 19 States and Union Territories — Andhra Pradesh, Assam, Bihar, Chhattisgarh, Delhi, Gujarat, Haryana, Jharkhand, Karnataka, Kerala, Madhya Pradesh, Maharashtra, Odisha, Punjab, Rajasthan, Tamil Nadu, Telangana, Uttar Pradesh and West Bengal — by the supplier. The vaccine for remaining 18 States and Union Territories — Andaman and Nicobar Islands, Arunachal Pradesh, Chandigarh, Daman and Nagar Haveli, Daman and Diu, Goa, Himachal Pradesh, Jammu and Kashmir, Ladakh, Lakshadweep, Manipur, Meghalaya, Mizoram, Nagaland, Puducherry, Sikkim, Tripura and Uttarakhand — will be received from their respective Government medical store depots. "All the States and UTs are likely to receive the first supply of COVID-19 vaccine shortly. In this regard, you are requested to ensure the advance preparation and readiness for the acceptance of forthcoming supply of the vaccine," Dr Pradeep Halder, advisor, Reproductive and Child Health (RCH) in the Health Ministry, said in the letter dated January 5.
The further distribution of vaccine to the districts will be done as per the registered beneficiaries, for which a separate communication will be done shortly, letter stated. The country's drugs regulator on Sunday approved Oxford-AstraZeneca's Covishield and indigenously developed Covaxin of Bharat Biotech for restricted emergency use in the country. IAF, commercial airlines to provide COVID vaccine transportation facilities: IN SUPPORT of the COVID-19 vaccination drive, the Indian Air Force and commercial airliners would be used extensively to deliver the two vaccines across the country.
"Transport aircraft of the Air Force including the C-130Js and AN-32s are planned to be used for taking the vaccines to the remote parts of the country. Arrangements are being made by the suppliers to provide the vaccines in specialised containers that will keep the vaccines refrigerated safely for 24 hours during transportation and delivery to the local administration officials," Government officials said here.