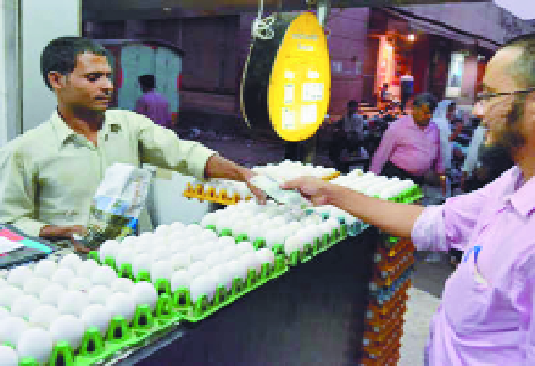 The egg prices in the city have dropped in the past 8 days due to lower demand. The egg prices are being quoted at Rs 4.75 per piece as compared to 8 days ago at Rs 5.50 per piece in the Mahatma Phule wholesale market popularly known as Cotton Market. In retail eggs are priced between Rs 6.50 and Rs 7 per piece, depending on the locality. This was disclosed by Moiz Burhani of Vidarbha Eggs while speaking to The Hitavada on Friday.
He further said that there were some reports that people were afraid of consuming eggs resulting in prices dropping by 40 per cent because of outbreak of bird flu in chickens in several states in the country.
"People in the city are not afraid of consuming eggs as awareness levels about the benefits of eating eggs has grown manifold especially after the spread of COVID-19 pandemic. People are mainly buying eggs to boost their immunity power in the backdrop of COVID-19 virus," he said. Burhani suggests that people should eat eggs and chicken which are properly cooked. He said that there has been a drop in egg prices as the demand has fallen by 10 per cent compared to the previous month. People tend to consume more eggs during winter season and less during the summer months. About 8 to 10 trucks are arriving daily compared to 10 to 12 trucks in wholesale market. One truck has capacity to load 1 lakh to 1.25 lakh eggs. The average daily consumption of eggs is 10 lakh to 12 lakh. The wholesale egg market caters to not only Nagpur district but also Chhindwara, Saoner and other towns, he further stated.
Burhani said that there are about 10 egg wholesalers operating in the wholesale market and they were mainly souring eggs from major egg producing centres in states like Andhra Pradesh and Telangana.