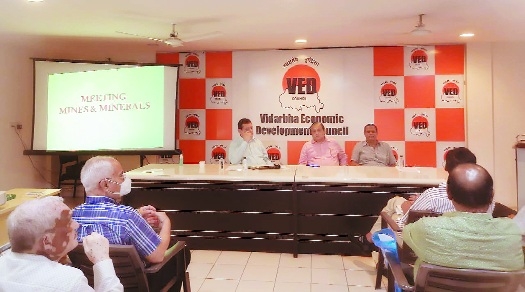 Business Bureau :
HOLDERS of mining and quarry leases, mineral traders and mineral consuming industries are facing problems in procuring environment, forest and others statuary clearances. To address these issues, Vidarbha Economic Devlopment (VED) Council invited experts from environment, forest and mining sector and requested them to address issues of stakeholders. The experts felt that there is need to harness full potential of mines and minerals in Vidarbha by resolving various issues from the Government.
A meeting on these issues was held recently at the office of VED. Experts and consultants on mining, environment and forests attended the meeting. S N Agrawal, forest consultant, suggested how the lengthy procedure for procuring forest clearance could be shortened. A R Khan, retired officer from the Forest Department explained in details the procedure for obtaining forest clearance for undertaking mining operations in forest areas. Khan also pointed out the mandatory distance which a project proponent has to keep from national parks, sanctuaries, and ecological sensitive zones and areas for undertaking mining operations. Rajendra Choudhary, retired Senior Deputy Director, DGM-Government of Maharashtra, informed participants about the procedure of acquiring 'Trade License' under provisions of 'Prevention of Illegal Mining, Transportation and Storage Rule-2001' and penalties for illegal mining, transportation and storage of major minerals in Maharashtra. Arun Deoras, alumnus of the National School of Mines explained the difficulties lessees face in submitting drafts of mining plans online. P Maheshwari, Vice-President, VED Council said that the State/Central Governments should come with an Amnesty Scheme similar to Income Tax, VAT and other numerous statutes, so that closed mines where mining operations had been suspended for minor reasons could be reopened and mining operations resumed.
M S Waghmare, Retired Deputy Controller of Mines, IBM discussed the amended provisions of Mines and Minerals (Development and Regulation) Act – 2015 / 2021, and cautioned stake-holders to pay attention to the amended provisions of law and to act accordingly. He cautioned stake-holders to pay attention to amended provisions of law and to act accordingly. B K Shukla, Mineral Law Consultant and Chairman - Mines and Mineral Committee of VED Council explained how the procedure adopted for the auction of mineral blocks are not in the interest of the mineral development of the nation. He mentioned that out of the 153 mineral blocks auctioned so far (up to June 2020), only 24 mineral blocks (other than coal) could start production and dispatch minerals. At the commencement of the meeting, Shivkumar Rao, President, VED said, "VED will make every effort to harness the mines and minerals potential of Vidarbha which could be good business if supported by the Government." P Maheshwari proposed the vote of thanks.