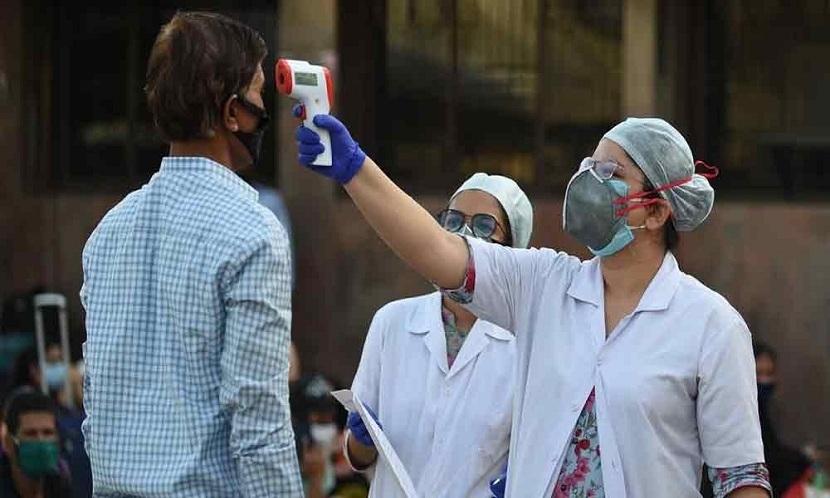 Staff Reporter :
Samples being collected from 80 clusters including 40 from city and 40 from rural areas
After the serological surveillance, also known as sero survey, conducted in October-November 2020, once again the administration has taken up the task in Nagpur district. "The fresh survey has been started in 80 clusters in Nagpur district. Of these clusters, 40 are in Nagpur city and 40 in rural areas of the district," said Prajakta Lavangare-Verma, Divisional Commissioner. The survey is carried out to assess the 'sero prevalence' of COVID-19. During the survey, blood samples are collected and tested for presence of antibodies against COVID-19. Antibodies are fighting mechanism developed by body and their presence in a sample is indicative of past infection of novel coronavirus. As per the results of the sero survey conducted last year, 49.7 per cent of population surveyed in Nagpur city had presence of antibodies, indicating past infection of COVID-19. In rural areas, the prevalence was 20.7 per cent. The prevalence in district as a whole was 35.17 per cent.
Based on the results of sero survey, the administration had warned that 64.83 per cent population in Nagpur district was 'still vulnerable' to contracting COVID-19 infection. Interacting with mediapersons on Thursday evening at her office here, Verma said that 750 samples were collected so far in the fresh (third round) of sero survey in progress. "It is planned to collect 6,100 samples. This time, some geographical area may be different from the clusters chosen for the survey conducted last year. Besides, age-groups have been defined for the survey and children, too, have been included," she said, in consultation with Health Department authorities from Nagpur Municipal Corporation, who were also present during the interaction. Replying to a question, the Divisional Commissioner said that the fresh survey has been started with kits available.
There were some old kits whose expiry date had come, and hence the health authorities have called for new kits, she added. To another question regarding the administration making the institutional quarantine mandatory in Nagpur district and not in districts like Bhandara and Gondia, Verma said that there was a difference in situation. "In Gondia and Bhandara, situation is good as people are responding quite well to the administration's appeal of COVID appropriate behaviour. But, in more urbanised centres like Nagpur, more energy of the administration is spent on ensuring COVID appropriate behaviour of people," she explained.
Asked about the assessment of COVID-19 risk to children ahead of school re-opening from October 4, the Divisional Commissioner said that already schools in rural areas run by Zilla Parishad (ZP) were functioning and there were no reports of COVID-19 infection among children so far. "Besides, it has been established that children have better immunity and they recover faster than elders," she said. As far as availability of medical oxygen is concerned, Verma informed the mediapersons that Nagpur district had requirement of 581 MT of oxygen as against which the administration was prepared with 521 MT. Further, plan was in place to be ready with one-and-a-half times of requirement during the second wave of COVID-19. Asked if the massive investment in health infrastructure would be in use post-COVID, she replied, "COVID-19 is an adversity but there is opportunity too, to give a boost to health infrastructure. At least 90 per cent of whatever facilities are created, will be in use later on also." Even after recovering from COVID-19, many patients died due to post-COVID complications. There is widespread public perception that several patients died due to complications triggered by medicines including steroids, but there is no scientific study to establish the link. On this, Verma said that Government Medical College and Hospital could be asked to conduct a study on post-COVID complications. 7 Swine Flu cases in Nagpur Divn, 1 death Apart from COVID-19, cases of Swine Flu and Dengue are being reported in Nagpur Division. So far, the Divisional Commissioner told mediapersons, seven cases of Swine Flu were reported in Nagpur Division. Of these, six patients have been discharged, she added. One person from Bhandara district died due to Swine Flu, as the infection had reached the advanced stage and there were complications. As far as Dengue is concerned, Nagpur city had 771 cases of which at least half the caseload was reported by private hospitals. "Dengue's spread is more in peri-urban areas. The authorities have been carrying out awareness campaigns in this regard," she said.
Pre-authorisation approved for chemotherapy cycles in slots of 3
Staff Reporter :
Prajakta Lavangare-Verma, Divisional Commissioner, takes cognisance of people's grievances and tries to redress those. In a latest, thanks to her initiative, Mahatma Jyotiba Phule Jan Arogya Yojana has approved pre-authorisation for chemotherapy cycles in slots of three, for Cancer patients. In July earlier this year, Verma had written to Dr Sudhakar Shinde, Chief Executive Officer of Mahatma Jyotiba Phule Jan Arogya Yojana, in this regard. Rashtra Sant Tukdoji Regional Cancer Hospital, Nagpur, provides treatment to around 11,000 patients yearly under the said scheme. Under the scheme, chemotherapy is provided for around 7,000 patients annually.
However, while providing treatment of chemotherapy under the said scheme, patient has to undergo pre-authorisation for each cycle, which is usually on weekly basis. Procedure of pre-authorisation takes six to eight hours and takes a day as blood investigations are to be done post receipt of pre-authorisation. Usually, a patient has to stay for a day and chemotherapy can be administered the next day. For the treatment, a patient has to visit the hospital at least eight times. "Thus, patient and his relative have to bear physical and mental stress as well as financial burden in view of travel, accomodation, and loss of wage," Verma, who is also the Chairperson of Cancer Relief Society, had pointed out in her letter. Often, this resulted in patients turning 'dropouts'. To avoid 'dropout situation', Verma urged Dr Shinde to consider approving pre-authorisation for chemotherapy cycles in slots of four -- that is, on monthly basis. She felt that this would help in ensuring better adherence in patient's behaviour and improved outcomes of treatment. Recently, Verma told mediapersons on Thursday, Mahatma Jyotiba Phule Jan Arogya Yojana had granted pre-authorisation for chemotherapy cycles in slots of three. As another official explained, for each cycle, an amount of Rs 5,000/- was granted under the scheme. The scheme authorities have ayed granting Rs 15,000/- at a time, which is sufficient for three cycles. Thus, pre-authorisation is effectively for chemotherapy cycles in slots of three. This saves time and helps minimise loss of wage for poor families, as the number of days engaged for each cycle separately will reduce.
Mucormycosis: Funds to be provided for dentures Prajakta Lavangare-Verma, Divisional Commissioner, said that several patients of Mucormycosis were facing financial distress due to costly treatment. "In some cases, it came to our notice that the affected family was unable to bear the cost of Rs 1 lakh for dentures. Hence, we have decided to provide assistance in such cases. The assistance will be provided through Vidarbha Sahayyata Samiti," she said.