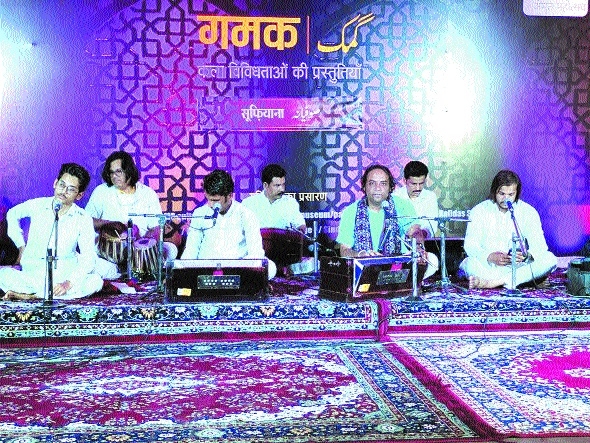 Artists presenting soulful renditions of Kalaams under Mehfil-e-Sufiyana of the Gamak cultural
programme in Bhopal on Thursday.
Staff Reporter :
Madhya Pradesh Urdu Academy headed the Gamak cultural series on Thursday. The culture lovers witnessed Mehfil-e-Sufiyana program in the cultural evening, in which Bhopal cultural artists Muqarram Warsi and TS Dharmesh presented their performances. The program opened to the Welcome speech given by Director of the Academy, Nusrat Mehdi, who shed light on the details of the program. She began by saying that the general public has been through a lot of mental and emotional turmoil amidst the Covid-19. Keeping in view the same, the MP Urdu academy has incorporated Ghazal singers in the Gamak cultural series, to provide emotional relief to the general public and provide Sufi singers a platform.
She thereafter introduced the cultural artists for the evening, Muqarram Warsi and TS Dharmesh from Bhopal. The cultural program unleashed with the arrival of Muqarram Warsi on stage, who presented the soulful Kalaams: Qamar Jalavi's "Mareez-e-Mohabbat" and Ameer Khusro's kalaam "Aaj rang hai", and called quits to the stage. Thereafter, TS Dharmesh graced the stage and presented the Kalaams: Meer Hasan's Kalaam "Hum na nikhat", Basheer Badr's kalaam "Kabhi yun bhi", Qateel Azhar's alaam "Kab tak yun" and Qateel Shifai's kalaam "Dard se mera". Towards the end of the programme, Director Mehdi proposed a vote of thanks to the viewers of the program. The program was successfully conducted by Vinay Upadhyay.