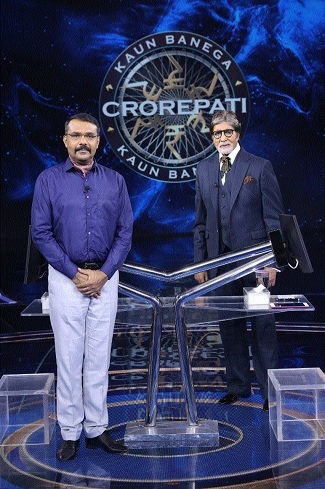 28th SSB Battalion Commandant Dr Ashwani Kumar Sinha along with Bollywood actor Amitabh Bachchan in KBC show.
Staff Reporter :
RAIPUR,
Dr Sinha will gift a car to his son after winning money from KBC n He will also make a music album
Dr Ashwani Kumar Sinha, who is posted as Commandant (Vet) of 28th Battalion of Sashastra Seema Bal (SSB) at Antagarh in Kanker district, reached the hot seat in popular show Kaun Banega Crorepati (KBC) hosted by Amitabh Bachchan on Sony Entertainment Television. Dr Ashwani Kumar along with the living legend Amitabh Bachchan on the hot seat of the KBC was aired on Tuesday and Wednesday. Talking to 'The Hitavada', Dr Ashwani Kumar Sinha said that he realized his dreams to be a part of the KBC after 21 years. "It was a wonderful experience for me to reach the hot seat in the KBC hosted by Amitabh Bachchan. I have deep interest in quiz. I have been watching the KBC for last 21 years and finally, I got a chance to be part of this popular show this year. If I was not selected for this show, my dream could have remained incomplete," said the SSB Commandant.
"One cannot reach the hot seat of the KBC only through talent. The people's blessings also help one to be part of this show," he added. Asked what he would do with the price money from the KBC, the SSB Commandant said that he would gift one car to his son Abhishek Singh, who is getting commercial pilot training in South Africa. Besides, Dr Sinha will use the winning money for making a music album. Dr Ashwani Kumar Sinha, hailing from Patna district of Bihar, said that he did B.V.Sc. and M.V.Sc from Jabalpur, Madhya Pradesh. Dr Sinha disclosed that he wanted to give his service in anti-Naxal movement in Naxal affected Bastar region and so on request, the SSB gave him chance to serve as Commandant of the 28th Battalion. Dr Sinha said that he likes singing and used to participate in singing competitions in school. Dr Singh said that his motive to be on KBC was to tell nation about SSB and also wanted to meet Amitabh Bachchan. He joined SSB in 1998.