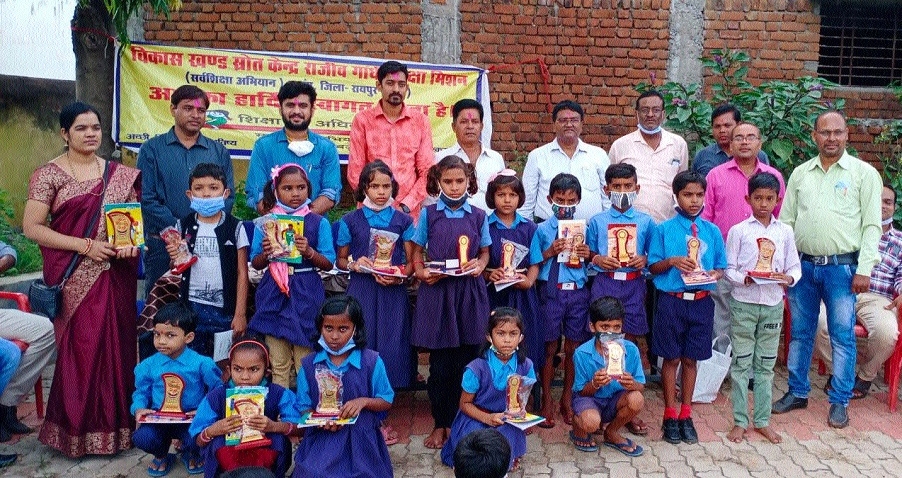 Arang: Winners of Development Block-level Reading, Writing, Mathematical Skill and Handwritten magazine making Competition was organised at Village Rasni in Arang. The winners of different competition felicitated on the occasion displaying the mementos and certificates received at the hands of Chief guest Janpad Member Watan Chandrakar, President of School Development management Committee Jagmohan Chandrakar and other guests.
Staff Reporter :
ARANG,
THE Zone-level working committee meeting of the Chhattisgarh Kasondhan Vaishya Gupta Samaj , Zone No 3 was held at Dhamtari on Thursday. Development of the samaj was major issue during discussion. The meeting commenced with paying obeisance to janak Mahrishi Kashyap. Besides agreement on organising zone-level family sammelan, decision was taken on stopping the tradition of covering the dead body with cloth. It was also decided to instead of covering with cloth, tributes should be paid with flowers, garland and sandal wood and awareness on the issue will be created among the Gupta Samaj.
The decision was taken expand the structure of the zone and developing the zone as a strong organisation. Secretary Vinod Gupta conducted the meeting and the programme was conducted by Pradeep Gupta of Dhamtari. The community members from all eight units – Mahasamund, Arang, Raipur, Durg-Bhilai, Dhamda, Rajim and Nayapara under Raipur zone were present. Sheels Guru Goswami, a teacher with innovations felicitated by the Chief Minister Bhupesh Baghel was honoured while the winners of slogan writing competition and sssay competition organized by Women Cell of Zone 3 were awarded.
The office-bearers of Zone 3 mainly Patron Ramkumar Gupta, Presdient Dr Avinash Gupta, Secretary Vinod Gupta, Kasondhan Ratna Ganesh Gupta, State Spokesperson Anant Gupta, Hemant Gupta, Jitendra Gupta, Shrikant Gupta, Presdient of Dhamtari Unit rajendra Gupta, President of Zone 3 Women Cell Sheela Guru Goswami, Secretary Somi Gupta, Unit Presidents Nilu Gupta, Sarika Gupta, Usha Gupta, Pratibha Gupta, Geeta Gupta, Saraswati Gupta and Aarti Gupta and others were present.