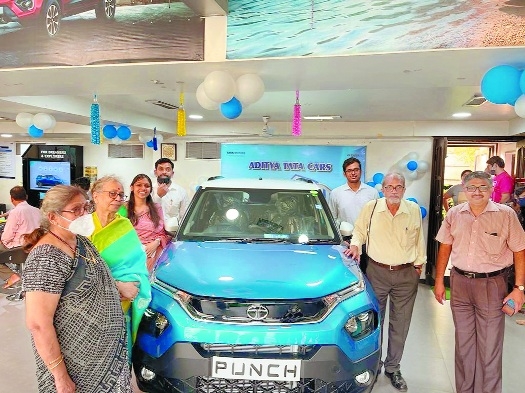 (From L) Jayshree Jain, Kumkum Sirpurkar, Aditi Jain, Mangesh Chetule, Udit Chakraborty, Dr Prakash Jain and Kiran Naik at the unveiling ceremony.
Business Bureau :
Aditya Tata Cars unveiled India's first, much anticipated, sub-compact Mini SUV, 'Punch' on Saturday at its Dhantoli showroom and also at Gondia and Katol. The unveiling was done by Kumkum Sirpurkar, one of the most renowned senior advocate of the city. Jayshree Jain, Aditi Jain, Mangesh Chetule, Udit Chakraborty, Dr Prakash Jain and Kiran Naik were also present on the occasion. Punch offers the agility of a hatch with all key capabilities of a true SUV. On the inside, the vehicle has a stunning design with spacious interiors. Now you can enjoy a spirited performance with absolute safety, class leading comfort and advanced infotainment. Punch is available in four distinct personas - Pure, Adventure, Accomplished and Creative, to cater to the varied lifestyle of its customers with both Manual (MT) and Automatic (AMT) transmission options along with customization packs.
Adopting a new age, human centric approach, in addition to the personas, customers can mark their Punch by choosing from 7 vibrant colours and further personalize it with the Rhythm and Dazzle customization packs. The Tata Punch is carefully engineered to offer the best ride on rough surfaces. Customers can book Tata Punch for Rs 21,000 as per Tata policy. Schedule your test drive today by calling any of our showrooms: Aditya Tata Cars, Dhantoli (M. 9960670152), Aditya Tata Cars, Sugat Nagar (M. 9021109000), Gondiya and Katol (9325476028). For any other enquiry or details, customers can visit Aditya TaTa Cars showroom.