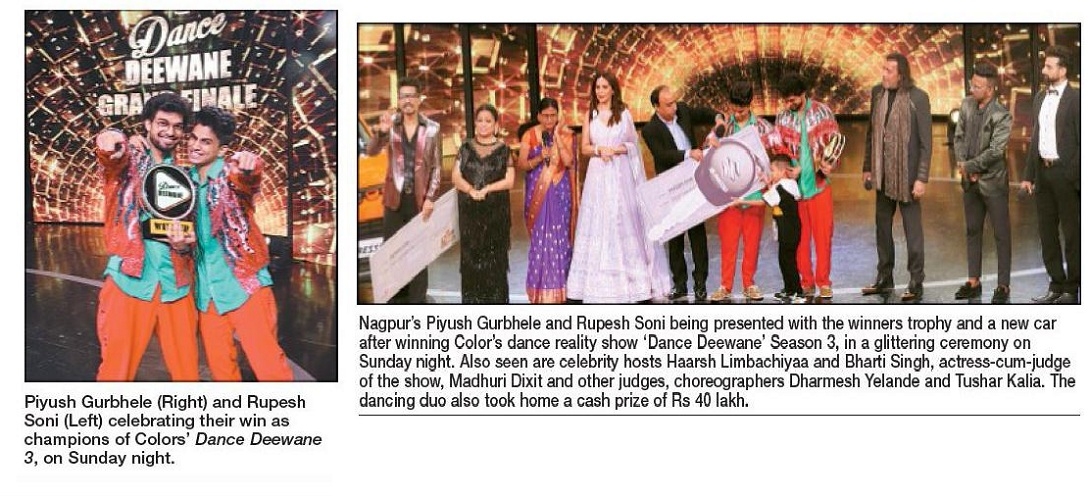 By Farina Salim Quraishi :
I still can't believe that I won Dance Deewane, says Piyush
After winning the perfect score week after week with his impeccable performance, Nagpur's very own dancing sensation Piyush Gurbhele was sure of his place in Colors' Dance Deewane 3; but never in his wildest dreams did the youngster expect to win the dance reality show. Piyush Gurbhele was crowned the proud winner of Madhuri Dixit-starrer dance reality show,Dance Deewane 3, along with Rupesh Soni in a closely contested finale that saw six other dancers in their best elements. But it was Piyush's 100 per cent hard work and talent that made all the difference, pushing him ahead of other obviously gifted dancers. He claimed the coveted Dance Deewane trophy leaving behind the finalists Sohail Khan, Gunjan Sinha, Aman Kumar, Raj Somansh Dangwal, and Soochana Chorrge pulling the curtains down on Dance Deewane third season, on Sunday night. The one-of-a-kind dance reality show gave opportunity to performers from all age groups, divided into three generations - under 15, 16-35 and above 35 to participate together. The show had actress Madhuri Dixit and choreographers Dharmesh Yelande and Tushar Kalia as judges, while Raghav Juyal was the weekly show's host.
The show which started in February began with 18 contestants, and after several weeks of intense competition the final battle was between the 6 finalists, who performed in pairs. The glittering finale gala, which saw stunning performances not only from the contestants, but also the judges, reached a crescendo when Piyush was announced the winner in a nail-biting finish by Madhuri Dixit. The dance prodigy took home the trophy of the Dance Deewane Superstar, a cash prize of Rs 40 lakh and a bright new S-Presso car. Popular dancer Piyush Gurbhele, who fearlessly performs energetic acts, is quite the social media sensation too with over 358k followers on the Instagram. Piyush along with his dance partner Rupesh Soni time and again earned the perfect 10 during his Dance Deewane journey with his unbelievable hip hop moves, wide smile and charisma. Piyush who is fondly called 'Nagpur Ka Toofan' still can't believe that he is a dance champion now. "Trust me, I still can't believe that I won Dance Deewane! It's stuff of dreams really. But more than becoming the champion, I am happy to have managed to find a place in this grand show, reach out to more people and during the journey learnt so much," gushes Piyush, who considered Gunjan Sinha a really tough competitor. Talking fondly about his journey, Piyush was hard-pressed to pick his favourite memory, but is very sure of remembering every second he spent performing on stage with Dancing Queen Madhuri Dixit. "I got the opportunity to perform twice with Madhuri Ma'am.
It was nothing short of magic when we presented Bholi si surat or our medley act. I will remember every second of it all my life," the enthusiastic Hip Hop fan gushes. "Dharmesh sir was also a very big influence throughout my journey. I learned so much from him. The biggest takeaway perhaps has been about presentation. However amazing is your act, it will amount to nothing if the presentation is lacking. I learned it from Dharmesh Sir and it has helped me improve my acts. Also, the time when Dharmesh sir presented me with his jacket, not once but two times is probably the biggest praise I received on the show. I can also never forget the moment, when Dharmesh Sir while giving his autograph asked for my autograph as well!," Piyush adds enthusiastically, who learnt the basics at Star Dance Academy, under Amit Gatekar and Deeper Kanojiya. Reminiscing about his early days in Nagpur, Piyush says the spot near Santosh Pakodewale near Manewada Square will forever be special for him. "I remember cycling all the way from Hudkeshwar Chowk -- where I used to live -- to Manewada Square to practice late in the night. Going back home later in the night after long hours of practice used to give me a special thrill. I still train at Amol Dance Academy whenever I'm in the city," states Piyush. Going against the trend of including acrobatic acts in his performance, Piyush says he likes dancing in its purest form.
"I always believed in being true to any particular dance form and not dilute it. See, If I'm doing hip hop I will present it in its purest form. That is what sets me apart from others. There is always the pressure to include acrobatic stunts in one's performance, but it takes away the format's purity. Hence despite the 'strong suggestions' to use the stunts, I've stayed away from them," says Piyush who was champion of ETV Telugu's Dhee Jodi, a hit dance show in Southern India and a runner up in Dance India Dance 6. While Piyush's family like all others was initially against his dance and wanted him to focus on his studies, but after Piyush started bringing laurels with his incredible moves, things changed for him. "They realised this is my life and have been backing me wholeheartedly since then. I was all the more confident of Dance Deewane with the support I had from my family," says Piyush who has completed his high school. A fan of judge Dharmesh, the young dancing star has his plans set for the future. "I got a chance to work with Prince Gupta for Tiger Shroff's song, Dus Bahane 2.0 from Baaghi 3. Though I didn't do much in the song, it was incredibly kind of Prince sir to give me credit for it. I want to pursue dancing in future as well and and wish to train myself a little more. I also want to buy my own house, it is my new dream. But my ultimate goal is to make a mark as a choreographer in Bollywood," concludes Piyush with a smile. n