By Dheeraj Fartode :
The list was submitted to NMC for action
The Traffic Police have identified as many as 76 pothole-ridden road stretches across the city and sent a report to Nagpur Municipal Corporation (NMC) for immediate repair. "Each identified road stretch has around 10 to 20 potholes with gravel strewn around," said an official of Traffic Police. A top-ranking police official informed 'The Hitavada' that officials of 10 divisions of Traffic Police were asked to carry out surveys in their jurisdictions. As per the survey, Sadar Traffic Division has highest 13 pothole-ridden road stretches, followed by 12 in Sitabuldi, nine in Indora division, seven each in Sonegaon and Kamptee, six each in Sakkardara, Lakadganj and MIDC divisions, five in Ajni and Cotton Market divisions.
The official said that Sitabuldi and Sadar areas have deep potholes dot roads with gravel strewn around. Such roads forces traffic to crawl and the uneven surface poses great risk to two-wheelers.The list of the bad road stretches was given by office of Deputy Commissioner of Police (DCP) Traffic last week after which the NMC started repairing work. The officials of Traffic Police are co-ordinating with the NMC and around 20 per cent stretches have been repaired so far, the official said. He further said that the potholes have sudden jarring impact on the vehicle-riders and also caused suspension problems which resulted into backache and other problems. It also punctured tyres and left vehicles out of alignment, he said, traffic snarls on such road stretches which used to lead to arguments between commuters or minor accidents.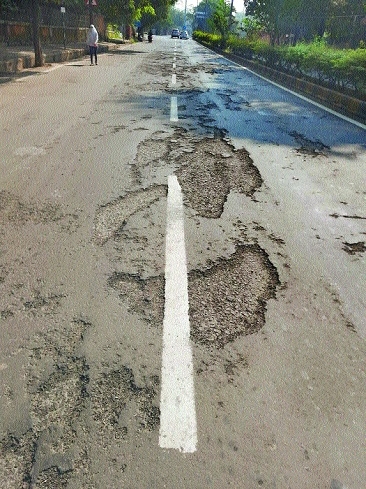 Janmanch lodges complaint with DCP about potholes at 200 places in city
Staff Reporter :
Taking upon itself the work to awaken authorities about their duties, Janmanch lodged complaint with Deputy Commissioner of Police, Traffic Control Branch, about potholes at 200 places in city. On one single day, the Janmanch activists clicked photographs of roads in city dotted with potholes and sent the pictures on mobile number 9011387100, the same is dedicated to enable citizens to provide details and information about potholes. The present condition of city roads is very bad due to variety of reasons, including contractors of various agencies not using materials as per stipulation, unchecked movement of heavy vehicles and trailers through city, no repair work for past two years, and shoddy work allegedly on part of contractors. The action of Janmanch, a premier citizens' organisation, was based upon High Court's directives to cops and to civic body.
While, traffic police were directed to provide a dedicated cellphone number where photographs of roads with potholes, craters could be sent by citizens. Police were then to share the data with NMC, which was then expected to carry out the repair works within the mandated period. As such, Janmanch clicked the photos at various sites and forwarded them on Mobile No. 9011387100, the number activated as per HC's directives. Stating their reason for the community action, Rajiv Jagtap, President, Janmanch, said the babudom scarcely acts on its own and needs to be activated and hence this mass photos were shared to showcase the sorry state of governance in second capital of State. Till Janmanch brought to light the direction of HC in one of the Public Interest Litigation (PIL). Jagtap said now the ball is in court of city police and expect that they would stick to their end of instructions and act in totality in case NMC fails to carry out corrective action within the time. Further they would also apprised High Court if the city police and NMC fails to provide relief to citizens, he further said. Meanwhile, Janmanch appealed to citizens to permanently save the mobile number of Traffic Police on their handset and whenever they come across the potholes they should click picture, mention the site, and sent it immediately. Till citizens do act on mission mode the state of affairs in city would not improve.