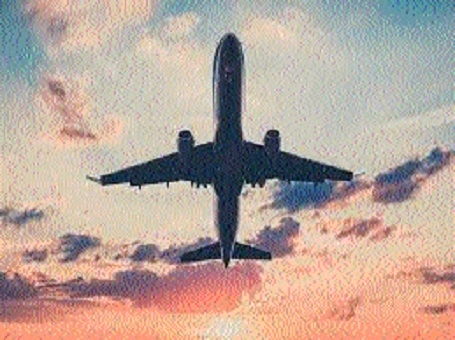 Staff Reporter :
RAIPUR,
The 72nd week since the reopening of domestic flights at Swami Vivekananda Airport (SVA) after first lockdown saw 5 per cent jump in flight movement and 16 per cent in passenger movement in comparison to 71st week. The Airport Authority is expecting traffic to increase further ahead of the festive season as passengers travelling to native home or tourist's destinations will grow. The 71st week recorded 298 flights and 28,309 passengers whereas 72nd week registered 314 flights and 32,927 passengers. In the year on year comparison, September 2020-21 had recorded 862 flights with 70820 passengers whereas September 2021-22 had 1,244 flights, 31 per cent increase, and 1,19,410 passengers, which was 68.61 per cent higher. According to information recieved, a total of 284 flights operated with 27,849 passengers in the 68th week. Notably, the Airport in 67th week remained same as a week before whereas flight movement had only registered a meagre 1 per cent growth in same period.
In the 67th week from August 30th to September 5th, 2021, SVA recorded 294 flights whereas passenger movement was 27,622. Notably, the 66th week registered 292 flights operating with a total of 27,634 passengers operating from August 23 to 29, 2021. Notably, a total of 274 flights arrived and departed from airport with 26,568 passengers in 65th. It's noteworthy that a total of 282 flights operated 2,7032 passengers in 64th week. In the year on year comparison, July had recorded 486 flights with 35,124 passengers in 2020-21 whereas the 2021-22 registered 1,020 flights and 95,155 passengers, seeing an increase of 52 per cent in flight and 170.91 per cent in passenger movements. SVA had recorded a big jump of 26 per cent in the 63rd week whereas the flight movement marginally slipped by 1 per cent. The numbers of flights operated in 63rd week were 278 whereas the total passenger movement was 2,8087 in comparison to 282 flights and 2,2314 passengers in 62nd week.
SVA authority informed that the 60th week recorded 208 flights operating with 22,772 passengers from July 12 to 18, 2021. A total of 202 flights operated with 20,912 passengers from SVA in the 59th week in comparison to 186 flights with 19,991 passengers in 58th week. 55th week had recorded 21 per cent growth in flights and 25 per cent in passenger movements.