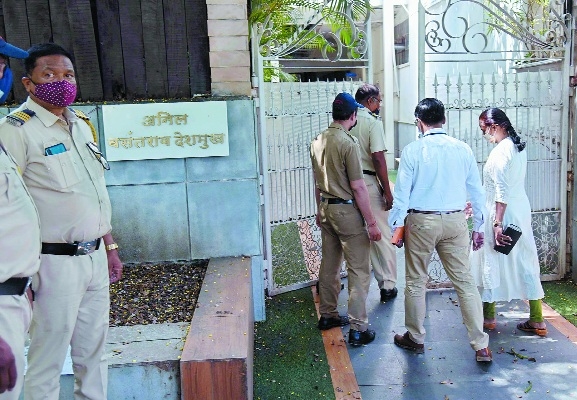 Staff Reporter :
AFTER conducting search and seizure operations twice at the residential premises of former Maharashtra Home Minister Anil Deshmukh, the Central Bureau of Investigation (CBI) again searched his bungalow at GPO Square in Civil Lines here on Monday. The bureau also simultaneously searched his Mumbai residence. Sources informed that searches by CBI on Monday were in connection with the ongoing investigation into leak of its purported preliminary enquiry (PE) report in the case against Deshmukh.
The former Maharashtra Home Minister's son and daughter-in-law are also allegedly on the CBI's radar in the same matter, added the sources. In September, CBI had arrested its own Sub-Inspector Abhishek Tiwari and Adv Anand Daga, lawyer of accused Deshmukh, in the case. Tiwari, who was part of the CBI team that was investigating the corruption case against Deshmukh, had allegedly passed the PE report and related documents to Adv Daga for self gains. The purported PE report had given a 'clean chit' Deshmukh at the initial stage. Signed by Investigating Officer Deputy Superintendent of Police (CBI) R S Gunjiyal, the PE report had stated that no cognisable offence could be made out against Deshmukh. Subsequently, the bureau registered a separate case about the leakage of the report against its officer(s) and Adv Daga for attempting to subvert the ongoing probe against the former Home Minister of the state.
The country's premier investigation agency had earler registered a corruption case against Deshmukh after former Mumbai Police Commissioner Parambir Singh alleged that the former being the home minister had asked Assistant Police Inspector Sachin Waze (now dismissed) to collect Rs 100 crore from bar owners on monthly basis for him. The bureau officers are also investigating whether or not Deshmukh had taken money in the transfers and postings of police officers. The Enforcement Directorate (ED) had also booked Deshmukh and two of his close aides in a money laundering case.
Sanjay Palande and Kundan Shinde, considered to be close associate of Deshmukh were earlier arrested. The court had directed Deshmukh to appear before ED on November 16. The ED and IT Department had also earlier conducted searches at Deshmukh's residential premises and also in the educational institution run by his family members. Meanwhile, Nationlist Congress Party (NCP) activists clashed with the police deployed at former Home Minister Anil Deshmukh's bungalow when a seven-member CBI team entered into it for conducting searches. Deshmukh's supporters resorted to slogan shouting against the CBI, Prime Minister and Union Home Minister but were detained by the police immediately.