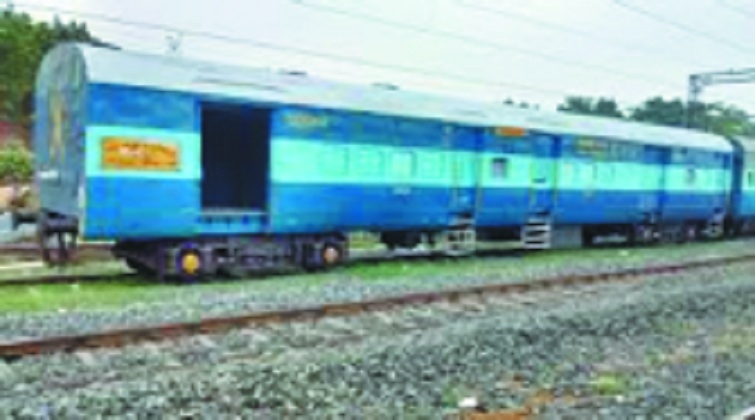 By Sagar Mohod :
Hard work put in by the Business Development Unit (BDU) of Central Railway's Nagpur Division has again yielded success as it has captured another new traffic meant for Bangladesh. The export consignment of raw material from Hinganghat finally came on stream and is ready to be transported on Wednesday. Confirming the development to 'The Hitavada', Krishnath Patil, Senior Divisional Commercial Manager (Sr DCM) said, "Due to outbreak of pandemic, the maiden parcel rake was delayed. Now, we are ready and excited at addition of another new commodity in division's kitty." This also showcased opportunities awaiting to be tapped within division's boundary, apart from hauling the coal that is still the highest grosser for revenue, Patil added. Efforts were on for past two years ;and they are finally paying off as division has readied the parcel rake to load grey fabric, produced in the clutch of factories in Hinganghat, in neighbouring Wardha district. Division officials have contacted the Raymond unit of Yavatmal and they too are roped in to facilitate deployment of a full Parcel rake.
About 468 tonnes of grey cloth loaded in 20 parcel bogies in addition one SLR would start off Hinganghat on its maiden journey to Benapole station in Bangladesh. Each of the parcel van has capacity of 20 tonnes while SLR can hold 18 tonnes of goods. The distance of nearly 1300 rail km would fetch division handsome revenue of Rs. 22 to 25 lakhs per trip. With BDU in place the field staff started concentrating on big and bulky commodity as these are the primary requirement for transportation through railways. The officials gleaned out information about industry pattern, the type of production and the market where the final produce is sent from the region. Thereafter the division team also studied the transportation pattern and found that a large movement of fabric is taking place ex-Hinganghat. As such officials from Parcel Department went on scouting mission and interacted with local officials and came to know about production of grey fabric. The region is abundant with cotton and Hinganghat has been old trading center for the same. During the time of Britishers the cotton and raw material from Hinganghat used to be taken by train all the way to Manchester in England. Now, after independence this is for the first time that grey fabric movement would take place through Parcel Special trains of Indian Railways.
Said Patil, sometimes back the fabric companies in region tried to ship their raw material to Bangladesh through Container but the delay in clearances resulted in negative opinion about the rail cargo. So for division officials it took quite a task to convenience the top honchos of fabric companies. Patil himself visited Hinganghat two to three times and interacted with the senior Directors of companies and pitched the Parcel option and listed various advantages. The first station in Bangladesh where Parcel trains are unloaded in Benapole and advantage with Rail is faster custom clearance. Divisional Operations Manager (Coal) Sumit Badarkhe also visited Wardha district and interacted with company officials and provided working pattern of Railways now a days. Field officials convinced the companies that with Parcel the fabric would be much safer to be transported. Further, there is faster movement and now Railways provided pinpoint information about movement of cargo to the booking parties. Compared to road transport, the railways apart form taking considerably lesser time to reach destination also has price in terms of f haulage. Moreover the faster clearance due to special arrangements with Bangladesh clinched the deal with the cargo handler of the company, said Patil further. He said they have right now contracted for five indents from M/s SaiLane cargo that handles the shipment of grey cloth of Pee vee Textiles Ltd. and Gimatex Industries Ltd. and that of Raymond UCO Denim Pvt. Ltd, Yavatmal.