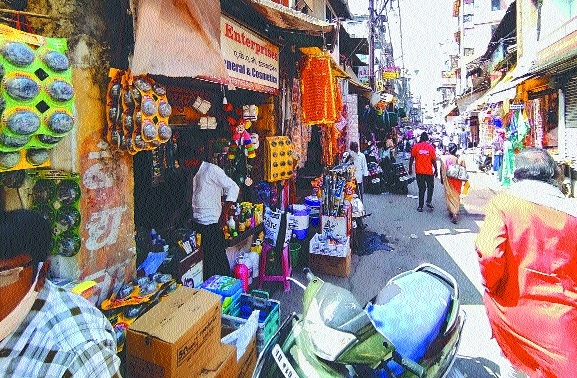 Staff Reporter :
The Maharashtra Bandh called by Maha Vikas Aghadi (MVA) Government got no takers in Nagpur city on Monday. The Congress, NCP and Shiv Sena coalition called the bandh in solidarity with farmers who were killed after a convoy of three SUVs, including one owned by the Union Minister's son, rammed into them at Lakhimpur Kheri in UP. The police have registered six cases at Sitabuldi, Tehsil, Rana Pratap Nagar, Pardi and Old Kamptee police stations against the workers of the three parties for violation of Epidemic Disease Act, said a police officer, adding that 405 workers were detained during the protest. More than 4,000 police personnel with two companies of State Reserve Police Force (SRPF) were deployed in the city to maintain law and order. The public and private transport including auto-rickshaws operated as usual for the whole day. Similarly, there was no impact of bandh on educational institutions, commercial establishments, government and private offices.

The Congress, NCP and Shiv Sena workers protested at various places in the city and condemned the deaths of the farmers. The 'Maharashtra Bandh' called by Maha Vikas Aghadi (MVA) coalition partners to protest death of farmers in Uttar Pradesh's Lakhimpur Kheri was a subdued event in city as business and other activities remained unaffected. Defying the call, traders and petty vendors across city continued their business as usual. MLC Adv Wanjari protests at Jagnade Square Congress workers led by MLC Adv Abhijit Wanjari protested at Jagnade Square. The protesters blocked the roads and raised slogans against the Union Government. MLC Wanjari also took part in the protest march that was taken out from Nandanvan to Jagnade Square in the morning hours and urged to supportthe bandh call. The rally concluded at Wardhaman Nagar. Leader of Opposition in NMC Tanaji Wanve, President of Minority Cell Irshad Ali, NSUI's Kunal Choudhary, Nirmala Borkar, Naresh Gawande, Rajesh Denge, Kusumtai Bawankar, Raju Bhende, Manish Umredkar, Manoj Naukarkar, Manoj Nandurkar, Kumar Bawankar, Rakesh Kanoje and others were present. Girish Pandav leads rally Congress workers led by South Nagpur Congress leader Girish Pandav took out a rally on Monday. Pandav alleged that farmers were crushed under the wheels of a jeep and demanded the accused should be sentenced to death as soon as possible, he stated in a press release. On behalf of NCP, former MLA Dinanath Padole, Mahila Congress President Pragyatai Badwaik, NCP Mahila Congress President Laxmitai Savarkar and others participated in the rally.
Gajraj Hatewar thanked workers and participants of the rally. NCP workers protest at Chhatrapati Sq Nationalist Congress Party (NCP) South-West Nagpur, led by Vice President Rupesh Pannase, staged a protest at Chhatrapati Square. The agitators launched heavy sloganeering during the protest and demanded stern action against culprits responsible for death of farmers. City President Duneshwar Pethe, Ex MLA Prakash Gajbhiye, Ishwar Balbudhe, Bajrang Singh Parihar, Rajneesh Pandey, Kamlesh Thakur and others were present. Dilip Pankule, Mahadevrao Phuke, Usha Chaudhary, Shrikant Ambulkar, Prashant Landage, Pramod Jondhale, Naresh Ambulkar, Bunty Meshram, Nilesh Meshram, Suresh Pillare, Hemant Hande, Kishna Savarkar, Raju Lanjewar and others were present. National Domestic and Unorganised Workers Federation National Domestic and Unorganised Workers Federation led by Trisharan Sahare protested at Chhatrapati Square on Monday. Mangal Yadav, Sudhakar Metpalliwar, Leena Katre, Sachin Bhoyar, Nanak Yadav, Umesh Yadav, Ravi Khadse, Subhash Sondawle, Seema Sondawale and others also were present. North Nagpur Congress' takes out scooter rally A scooter rally, led by Maharashtra Pradesh Youth Congress Vice President Kunal Raut, was taken out by members of North Nagpur Congress Committee.
Apart from essential services like medical stores, milk supply, hospitals etc., owners of other shops and establishments were requested to observe the bandh. National Coordinator of Congress Sevadal Krishnakumar Pandey, Vice President Ratnakar Jaipurkar, Block President Suresh Patil, Deepak Khobragade, Youth Congress General Secretary Ajit Singh, Secretary Asif Sheikh, Satish Pali, Vijayatai Hazare, Gautam Ambade, Chetan Tarare, Sachin Wasnik, Nilesh Khobragade, Praful Kirpane, Rakesh Ikhar, Sheelaj Pandey, Aniruddha Pandey, Chetan Meshram, Royal Gadam and others were present. Inderpal Waghmare, Munna Patel, Punjabsingh Babri, Munna Sepai, Ritesh Jagtap, Preeti Gaikwad, Darshana Gedam, Jintendra Chavan, Sachin Dohane, Kalpana Dronkar, Namrata Gajbhiye, Pramod Gajbhiye, Sheikh Shahnawaz participated in the scooter rally. Shiv Sena stages demos at Variety Sq Workers of Shiv Sena City Unit staged a demonstration at Variety Square. Under the guidance of Shiv Sena Contact chief MLA Dushyant Chaturvedi and under the leadership of Mahanagar chief Pramod Manmode, city chief Nitin Tiwari, Deepak Kapase, and others participated in the demonstration.
'What support State offered to affected farmers?' n Principal Correspondent Raising a question, 'What support has Mahavikas Aaghadi Government offered to the farmers in the State?', Chandrashekhar Bawankule, Bharatiya Janata Party's State General Secretary said, "All the three parties are trying to pose that they are biggest supporter of the citizens of Uttar Pradesh. Their own citizens farmers are suffering a lot but nobody has taken any step to help them. Actually Income Tax Department has solid evidence where the unauthorised amount of Rs 1,050 crore was amassed. MVA deliberately given a call for Bandh to divert attention of people from the Income Tax issue." While addressing mediapersons, Bawankule said, "On one hand farmers in the State are facing problems of storms, untimely rain, drought while on other parties in the Government are supporting the Bandh call. When Sena was in alliance with BJP, it used to demand Rs 50,000 per hectare aid for farmers. Now farmers are waiting to get aid from the Government." Calling it bizarre as MVA itself gave a call for Bandh against its own Government, Bawankule alleged, "The parties had used police force for their own convenience." Those present at the press conference include Pravin Datke, President of city unit of BJP and MLC, Vikas Kumbhare and Krishna Khopde MLAs, Chandan Goswami, Rambhau Ambulkar and others. No response in Ramtek The 'Maharashtra Bandh' called by MVA coalition partners had no effect in Ramtek city. Not a single shop was closed in the Temple city.
Congress and NCP leaders gathered in Gandhi Chowk at around 10 am. But Shiv Sena leaders did not participate in the event. Congress and NCP workers appealed to the traders to down shutters but none responded. In the evening, a protest meeting was organised at Gandhi Chowk, local leaders of Congress, NCP and Prahar organisation attended the meet. Mixed response in Kalmeshwar The 'Maharashtra Bandh' call evoked mixed response in Kalmeshwar tehsil. A rally was organised from Bazar Chowk in the Kalmeshwar town and workers of Congress, NCP and Shiv Sena took part in the rally. Commercial establishments were closed while government offices and schools remained opened. Congress' Ashok Bhagwat, Purchase and Sales Association President Babarao Kode, APMC Chairman Babarao Patil, Deputy Chairman Jayshree Walke, Former Chairman Shravan Bhingare, Vaibhav Ghonge, Narendra Palatkar, Pradip Chankapure, Kishore Mohod, Rajendra Suke, Vijay Thakre, Shankar Kale, Prashant Nimbalkar, Sunil Kardbhajane, Sanjay Dhongadi, Avinash Gotmare, Bhujang Mojankar, Khushal Mandlik and Ghanshyam Makasare, Suresh Langade, Pradip Gotmare, Prashant Ikhar, Arun Vahane and others took part in the agitation.