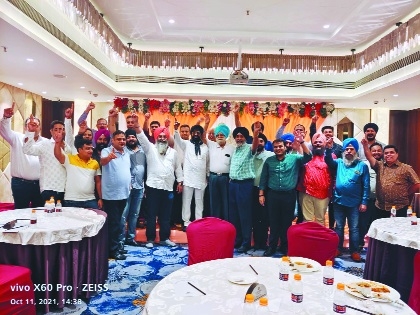 Business Bureau :
Highlighting that the prevailing fuel prices have made the transport business unviable, the Nagpur Truckers Unity on Monday threatened to observe bandh in the region if they failed to get increased freight charges. In a special meeting held here, the truckers said they would resort to agitation and stop transportation of commodities like cement, coal, fly ash and steel if the concerned agencies give them 50 to 60 per cent hike in the charges. Most of the cement and steel manufactures along with coal mining companies of the region have enganged the truckers after fixing the annual freight charges. However, now the truckers are saying that the recent hike in the price of diesel has lost economic feasibility of their business. "We are demaning that the cement, steel manufacturers and the coal mines should hike the rates considering the prevailing price levels of fuel," said Kuku Marwaha, President of Nagpur Truckers Unity. The truckers have asked the agencies to reconsider the freight charges within next two day .
"Otherwise all of us will stop transportation of these commodities," Marwaha added. Nagpur Truckers Unity claimed that the truckers based in Yawatmal, Chandrapur, Vani have also supported the demand. "The Nagpur Truckers Unity strongly condemns the freedom given to oil companies to increase fuel prices. Marwaha said that the daily increase in prices of diesel and petrol has led to black marketing of kerosene in the region. "Common man is also facing hardship due to the rise in fuel prices," the truckers said wondering why the the prices of diesel and petrol are so high in the country. Transporters said the cost of maintaining trucks has increased manifold due to uncontrolled hike in diesel prices. The transport business has come to a halt as diesel prices are being increased on a daily basis. Manish Chaddha, Gurdayal Singh Paddha, Pankaj Jain, Harjeet Singh (DNR) Devendra Singh Alag (SKRC), Harkaran Singh Tuli and others were present in the meeting.
Diesel nearing Rs 100/L mark Fuel prices increased once again across the country on Monday which pushed the price of diesel here in the city very close to Rs 100 mark. With a hike of 36 paise, diesel saw price tag of Rs 99.25 per liter on Monday.. The price of petrol also jumped by 28 paise to Rs 110.14 per liter. Interestingly, the current petrol and diesel prices are all time highs. The fuel prices are showing consistant hike for the past few days giving tough time to consumers.