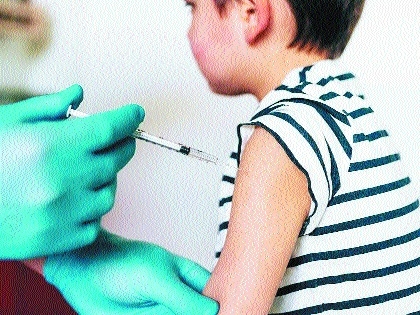 Principal Correspondent :
With Subject Expert Committee (SEC) giving approval to kids' vaccination, the only formality now remains permission from Drugs Controller General of India (DCGI). The receipt of permission from DCGI could take at least three weeks. Only after that, the vaccination for kids could start. Clinical trial of Covaxin, the vaccine, were conducted in Nagpur also. Central Drugs Standard Control Organisation (CDSCO), the Biological Division of Directorate General of Health Sciences, had earlier given approval to Bharat Biotech International Ltd to conduct trials to develop COVID-19 vaccine for children in the age group of 2 to 18 years. Bharat Biotech had conducted these world's first vaccine trials for kids at four centres and Nagpur's Meditrina Institute of Medical Sciences was one among them. Dr Vasant Khalatkar, a well-known Paediatrician, worked as its Principal Investigator. Dr Khalatkar while talking to 'The Hitavada' said, "We had conducted trials on 575 kids. The approval from SEC assumes importance. Now everything is clear and once we receive the permission from CDCI, the vaccination drive would start.
"My only appeal to all parents to get their wards vaccinated without getting confused," he said. Children need to be handled carefully. Unlike adults, we can't expect children to be so much cautious. So there is possibility that when they come home they are likely to bring the virus. Their vaccination should be given top priority. The vaccine will be given in two doses. Second one would be administered 28 days after the first one, Dr Khalatkar said. Along with Meditrina, the other institutes which were part of the trials include All India Institute of Medical Sciences (AIIMS), Patna, Bihar; Felix Hospital, Noida, Uttar Pradesh; Institute of Child Health Niloufer Hospital for Women and Children, Hyderabad. Meditrina was the only hospital of private set-up. The study was designed to evaluate the safety, reactogenicity and immunogenicity of three groups ages =2 to 6, 6 to 12 and 12 to 18 years of healthy volunteers who received two doses of the whole virion inactivated SARS-CoV-2 virus vaccine (COVAXIN) 28 days apart.
The study was conducted in three groups. In Group1healthy volunteers ages =18-12, years were enrolled who received two doses of COVAXIN vaccine through intramuscular route on Day 0 and Day 28+2. After completion of recruiting participants in group 1, study conducted for group 2. Same procedure was applied for the group 2 where children of age group 6-12 years of age were involved and Group 3 too which dealt with the children of age group 2-6 years. During the trials of adult vaccination Nagpur was one of the sites for Covaxin's phase I, II and III human trials wherein along with Meditrina, Seven Star Hospital and Gillurkar Hospital had participated.