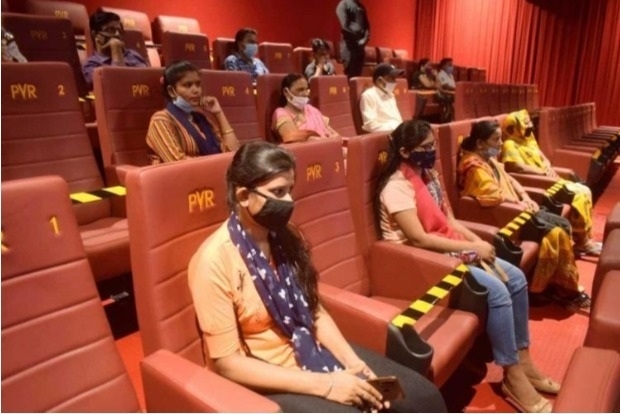 Staff Reporter :
Last remaining sector of economy, cinema theatres and cultural auditorium, too have got the nod to resume their operations from October 22 onwards. Following in the footsteps of State Government, District Collector R Vimala on Tuesday notified the guidelines for reopening of cinema theatres and restarting of cultural programmes in phased manner. Similarly, Collector also notified the norms for permitting auditorium to host plays. For all the three categories the norms are similar and states that the employees working at theatres, auditorium should have taken two doses of vaccines and completed 14-days time period. Also the visitors must have taken both doses to get entry into the cinema theatres and at auditoriums and for attending the plays.
Those in teenage group, upto 18-years, would need to showcase their I-cards as a proof to establish their age as vaccines for them have been just approved. Collector's order are for areas in mofussil parts of District and for city while Municipal Commissioner will issue the orders separately. For past one and half years, cinema theatres have been closed as State gave top priority to breaking the chain of transmission. Given the concerns that in cramped and closed spaces, the virus can transmit quite fast, the theatres, auditoriums were not permitted to reopen even as other sector in economy flourished post easing of lockdown. Artists had petitioned State Government seeking relaxation of the norms as their livelihood was affected. With COVID-19 case load within manageable limit and still no sign of third wave, Department of Tourism and Culture, Maharashtra Government, has issued detailed norms wherein they desired regular medical check-up of artists and other persons in the troupe and those working at the hall and auditorium. At cinema theatres and auditorium the norms of social distancing means only 50 per cent of seats could be occupied, stated the Government's directly.
Also at all halls, sufficient interval is to be provided to avoid crowding at parking lots and entry and exit places. Similarly for entry all visitors must have Arogya Setu app as that can also help in showing the vaccination certificate. Face masks would be compulsory for all attending the shows and hands free sanitizers stands should be put in place. Also visitors must be thermally screened and number of persons at a time in lifts are also to be kept limited. Crowding should also be avoided in common places and audience be urged to avoid movement during the recess or interval. The State has also urged the cinema theatres and auditorium hosting plays to opt for digital transactions and avoid dealing in cash. Contact number should be noted while issuing tickets to help with tracing. Temperatures of air conditioning should be maintained at 24-30 degrees Celsius. Doors of theatres should be kept open and avoid re-circulation of air.
Pools to open but with rider
Sports Reporter :
AFTER more than 18 months, swimming pools in the district will be allowed to open following State Chief Secretary Sitaram Kunte's order. Following Kunte's order, Nagpur District Collector R Vimala, too, issued an order on Tuesday permitting opening of pools in district, but with a rider. With positive cases receding, the state government has decided to ease the restrictions further. But, swimming pools will not be open for all. As per the order, only those swimmers selected for state, national and international level swimming competition will be permitted to train, practise in the pools. "Vaccinated swimmers above 18 years of age having completed 14 days after the second dose will be eligible to enter the pools. Same should be followed by coaches and other staff members," stated the order.
Those swimmers below 18 years can train in pools but will have to produce their parents' consent letter along with their age proofs, it stated. The maximum capacity of a 50-metre 10-lane swimming pool is 20 swimmers per batch while for 25 metres 8-lane pool it is 16 swimmers per batch. Authorities will have to increase water sanitation level by maintaining chlorine level in water and the filtration plant will have to be operated for the entire duration for the practice and two hours before and after the session.