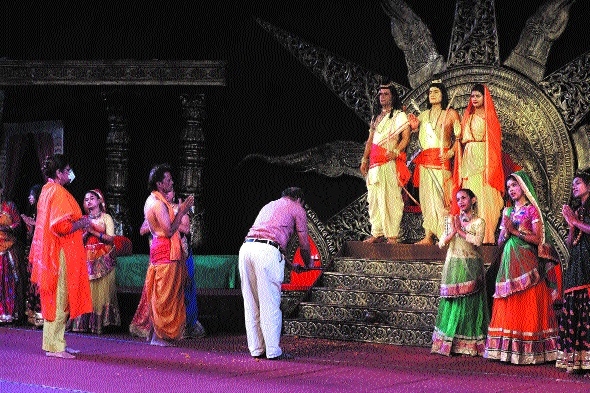 A still from the Ramleela Utsav, on the third day of which, Sugriva Maitri and Ravana's slaughter were presented at Ravindra Bhavan in Bhopal on Tuesday.
Staff Reporter :
Shri Ramleela Utsav, being organised by Directorate of Culture, Madhya Pradesh from October 10 to 14 at Ravindra Bhavan, witnessed dramatic staging of events Sugriva and Ram's friendship, Bali's slaughter, Ramsetu formation, Ravana and Angad conversation, Lanka Dahan, Kumbhkaran and Meghnath's slaughter, Ravana slaughter and Lord Ram's coronation, on the third day of the Utsav on Tuesday. The third day of the cultural evening unleashed with the Shri Ram Aarti. After this, the plays commenced, in which the opening scene portrayed the meeting of Lord Ram and Hanuman for the first time. Hanuman establishes friendly relations between Rama and Sugriva. Sugriva thereafter tells Lord Ram that his elder brother Bali has conspiratorially acquired his kingdom and kicked him out of Kishkindha. Following this, the noteworthy event of Lord Ram killing Bali is staged.
Rama thereafter expedites his search for Sita and in order to locate her, Lord Rama, along with the army, graciously asked the sea-lord for a way to reach Lanka. Due to the curse endued on Nal and Neel, the stones do not sink in the water, the army builds a bridge with the stones and reaches Lanka through the bridge. After reaching Lanka, Angad is sent to convince Ravana for maintaining truce and returning Sita on the advice of Jamwant. In the next scene, Ravana and Angad's conversation, Kumbhakaran and Meghnath slaughter, Ravana's slaughter, Lanka Dahan and Lord Ram's coronation events were depicted in the play. On the 4th day of the event, on October 13, Vanvasi Leela s and Nishadraj Guhayas will be presented under the direction of Guru Prasannadas from Satna. These Leelas have been composed by Yogesh Tripathi.