Dr Mishra emphasises on use of organic manure by farmers; explains method to prepare it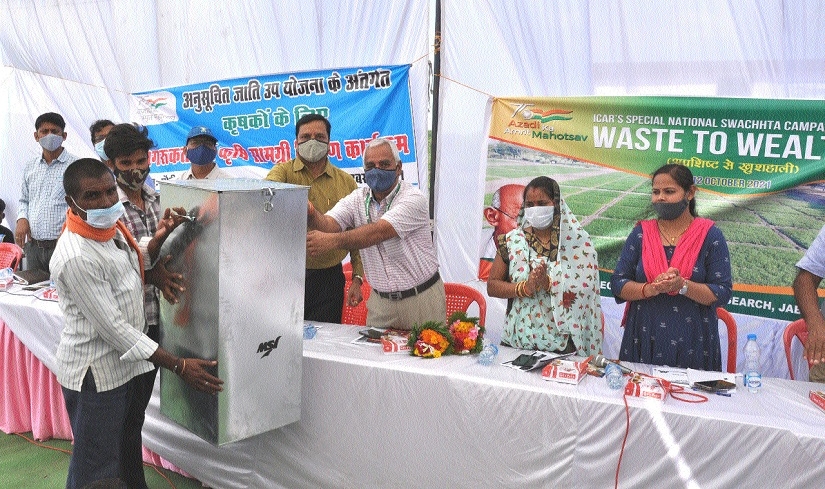 Staff Reporter :
Government of India's entire Ministries and institutes of Indian Council of Agricultural Research (ICAR) organised a programme titled 'Vishesh Rashtriya Swachhta Abhiyan' on Tuesday. In the series, Directorate of Weed Research, Jabalpur organised a programme 'Vishesh Rashtriya Swachhta Abhiyan' in Poni village, Achloni Patan. The participants were explained about the techniques of making organic manure through cow dung, weeds and other agricultural waste. Addressing the gathering, Dr J S Mishra, Director, Directorate of Weed Research explained in detail about the research conducted on optimum utilisation of waste material, weeds and remains of agricultural crops. He said that farmers are using chemical fertilizers to increase the yield of crops.
He laid emphasis on the use of organic manure. Organic manure is prepared through vermin compost material by using waste material and cattle dung. He explained about the technical aspects and methods of making organic manure through weeds and crop remains and requested the framers to replace organic manure with chemical fertilizers. Dr. KK Barman, Principal Scientist, Directorate of Weed Research highlighted the various programs organized for farmers in the institute. He said that household water can also be converted into organic manure. Farmers can procure this organic manure in nominal price. In the program, around 200 male and female farmers participated in the programme. The beneficiaries of Anusuchit Jati Up Yojana were given sprayer and storage tanks. Dr P K Singh, Dr R P Dubey, Dr Sushil Kumar, Dr P K Mukherjee, Dr V K Chaudhary and others were present.