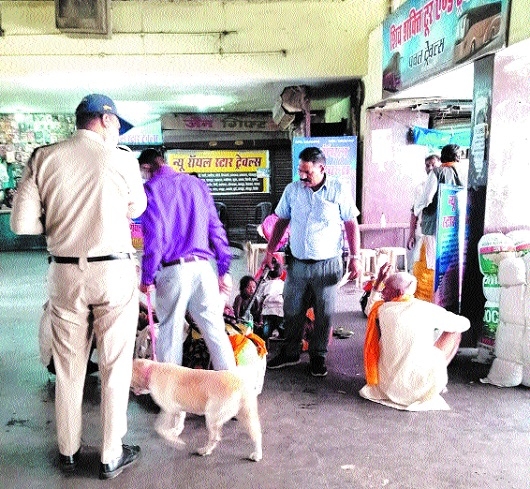 Police carrying out checking drive at bus stand on Tuesday.
Staff Reporter :
By seeing the festive season of Navratri and many other festivals to follow in coming days, police have beefed security arrangements to ensure strict law and order situation in state capital. Police officials could be seen doing vehicle checking at various identified points of city. On Tuesday, police also took the help of Bomb Disposal Squad and sniffer dogs to ensure water tight security arrangements. BD&DS went to railway station, bus stand, shopping malls and other sensitive public places and did checking. Bags and other belongings of passengers were checked at bus stand and railway stations.
In the meantime, police is also keeping strict watch on anti social elements and listed goons of city. Along with this, information of people staying in hotels and lodges are also being obtained. Senior police officers are guiding the police team in ensuring security arrangement. Even vehicle checking drive is underway at outer posts of city. When anyone is seen moving in suspected manner, he is interrogated. In night, police patrol vehicles moves across the city and sees the security arrangement at Durga tableaux and other public places. The night patrolling vehicles goes even till far distant places of city.