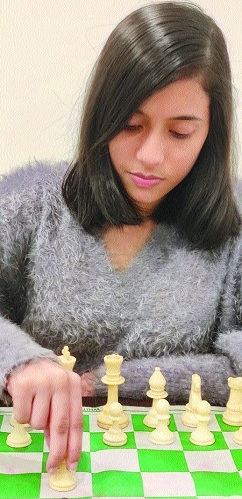 By Paritosh Pramanik :
She is final norm away from becoming International Master
SHE had to wait for this day for more than a year. The coronavirus pandemic halted her smooth surge towards achieving the coveted Women's Grandmaster (WGM) title. Though she kept herself "in the game" by participating in a few online chess meets, she sorely missed her favourite Over The Board competitions. The day finally arrived on Wednesday and city's talented chess player Divya Deshmukh achieved her final norm to be crowned as India's latest Woman Grandmaster. Playing her first OTB competition after more than two years, Divya made it a point to collect those vital points as soon as possible. And she did it with aplomb at the First Saturday GM October 2021 Competition in Budapest, Hungary, on Wednesday. Divya, 15, scored five points out of possible nine and performed at ELO 2452 to secure her final WGM-norm becoming the fifth women Grandmaster from Maharashtra and also the youngest from the State. Divya also scored her second IM-norm and is now a final IM-norm away from becoming India's latest International Master.
Divya achieved her first WGM norm at Velammal International Women Round Robin Tournament and then secured the second norm at Aeroflot Open in 2019. The COVID-19 pandemic halted her surge for more than two years. Divya, who started as the second seed in the Budapest competition, ended a creditable fifth winning three games and drawing four. After achieving her first "target" Divya posted on twitter: "Completed my 2nd IM norm and my last WGM norm. Hoping to play some more good chess in the upcoming tournaments." Divya said she loved playing OTB competitions and missed them all these days. "I am very happy with this title (WGM). I love Over The Board (OTB) competitions. I missed them very much in the past two years. I was very excited to play the OTB after a gap of more than two years. Now, I need to achieve just one more norm for an IM title.
I will try to get it in the next tournaments in the next couple of weeks," Divya said from Budapest. Divya, who crossed 2400 rating points in April 2019, was playing her first Over The Board Tournament since COVID-19 put a break on all competitions. Divya's mother Dr Namrata said the WGM title would have come much earlier had there not been this pandemic break. "She could have achieved this title much earlier but for the coronavirus break she had to wait for so long. We all are very happy with her performance. We all are proud of her," said Dr Namrata, a gynaecologist. But for Divya it was the same as it was two years back. "Played OTB chess after almost two years. Yet, I didn't feel like anything changed at all.
The intense atmosphere, the vibe, the anxiety during time crunches, the nervousness, the great games, and just about everything. Missed every bit of this and I'm so glad to be playing again," Divya tweeted. Divya, who is with her father Dr Jitendra in Budapest, will now play a couple of tournaments in Budapest and Latvia where she would attempt to achieve the final IM norm. The Budapest meet starts October 15 followed by Latvia competition 10 days later. The All India Chess Federation also congratulated Divya for her WGM title. "Congratulations @DivyaDeshmukh05, latest Woman Grandmaster of India. Nagpur teenager Divya Deshmukh becomes the latest Woman Grandmaster of the country after achieving her second International Master Norm (Final WGM Norm) at First Saturday Grandmaster October 2021, Budapest Hungary," the federation tweeted.