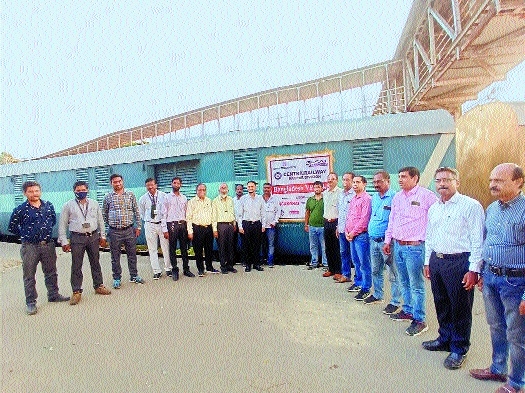 By Sagar Mohod :
Joint efforts by officials of Central Railway's Nagpur Division and textile magnets brought Hinganghat on the international map. In a historical development, the first rake of raw cloth consignment was dispatched all the way to Bangladesh, the current hub of finished cloth manufacturing, through Parcel Vans from Hinganghat station on Wednesday. Textile giants from the town, Pee Vee Textiles and Gimatex Industries Limited, both based at Hinganghat, and Yavatmal based Roma Denims Private Limited joined hands to make the maiden rake a success. About 486 tonnes of raw cloth is being exported through Parcel Van for the first time in the region and assured delivery across the country's border has enthused the manufacturers as it would be a game changer for them. As the rake started its journey on Wednesday, for the heads of the three companies present at Hinganghat station it was an occasion signalling initiation of a new beginning.
The Hitavada caught up with the top bosses of two companies and they said that transport through railways has opened new vistas for them and if it becomes a regular feature then the possibilities would be endless. Gimatex's Managing Director Prashant Kumar Mohta and Director Vineet Kumar Mohta; Pee Vee Group's Senior Manager Vivek Saxena and Manager Mishra, and Roma Denim's Works Director Nitin Shrivastava, made it a point to join the brief ceremony held during flag off the maiden rake. Senior Divisional Commercial Manager Krishnath Patil was also present. He said that the development was quite important for Railways and in future Central Railways would try to provide all required facilities so that industries can expand their production capacity. The Railways, he added, saw the larger picture and if the export of raw cloth from Hinganghat gets streamlined then entire cotton belt stands to benefit and its fruits would reach every section of the society.
Patil also underlined the constant encouragement provided by senior officials including Divisional Railway Manager (DRM) Richa Khare who was keenly keeping an eye on every aspect of development when the possibility of running full Parcel Van rake from Hinganghat came up for discussion. Working closely with Commercial Branch team, Operations Department of Nagpur Division also did the chasing and all this happened during the time of lockdown when entire nation was coming to terms with breakout of pandemic. Divisional Operations Manager (DoM) Sumit Badakrhe visited Hinganghat and interacted with senior managers and fine tuned the partnership with the textile manufacturers of the area. The outreach of Operating Department helped clinched the deal for Nagpur Division that earned handsome revenue of nearly Rs 23 lakh through single trip.
The field team comprising Chief Parcel Superintendent (CPS), Nagpur Depot, Shekhar Balekar, Movement Inspector (MI), Parcel, Sanjay Gambhir, opened the new vistas for Parcel traffic from a small station like Hinganghat and providing prospect for further deepening of Railways outreach in the region. Their efforts were complimented by ground work handled by Shipani Trucking and Sai Rail Cargo to ensure companies are not troubled with aspect of loading and unloading thus providing end to end solutions. Commercial Inspector Manmohan Sahu along with Parcel In-charge Abhay Punwatkar and Parcel Clerk Kawade handled the other paper work for the maiden rake movement.