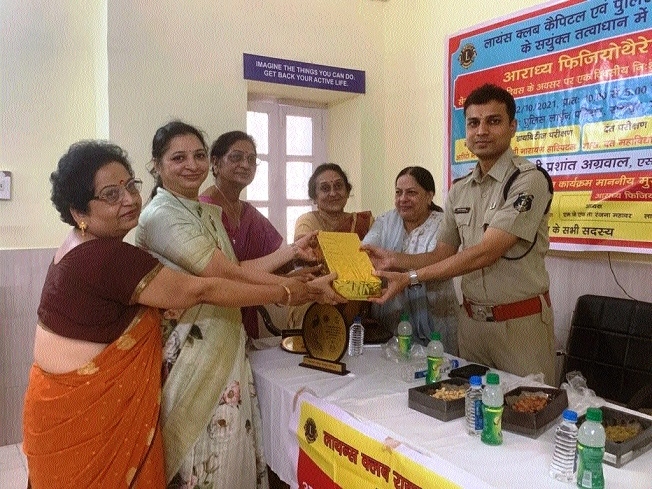 SP Prashant Agrawal presenting memento to a donor during the free check-up camp.
Staff Reporter :
RAIPUR
LIONS Club Raipur Capital in association with the Raipur Police organized a Free Health Check-up Camp on the occasion of foundation day of Aradhya Physiotherapy Centre, Raipur on Wednesday. Superintendent of Police Prashant Agrawal was the chief guest and inaugurated the free check-up camp. The visitors were provided services related to eye check-up by Auribondo Hospital, diabetes check-up by Shree Narayana Hospital, dental check-up by Government Dental College and electro acupressure check-up by Lion Hardeep.
Later, donors of the camp were felicitated at the hands of Chief Guest SP Abhishek Agrawal. Inspector Vaibhav Mishra, Head of Lions Club Raipur Capital Sheela Bhansali, Secretary Dr Meenakshi, Treasurer Kiran Agrawal along with other members of the club were especially present during the camp. Hundreds of persons availaed the chechk-up facilities in the camp held unde the guidance of Head of Aaradhya Physiotherapy Centre and MJF Ranjana Mahawar and active participation of Secretary Jaya Sur.