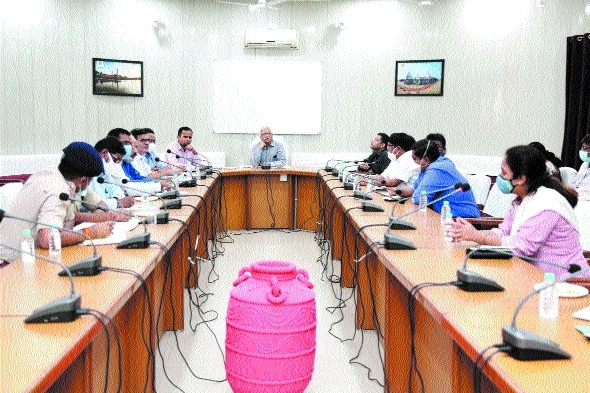 Divisional Commissioner Kavindra Kiyawat addressing a meeting at his office in Bhopal.
Staff Reporter :
Divisional Commissioner Kavindra Kiyawat has directed the departments concerned, including district and police administration, to take serious action to prevent pollution in the State capital. In the Divisional Commissioner's meeting room, Kiyawat reviewed air pollution situation in Bhopal and measures being taken. Kiyawat has directed that the district administration and Transport Department should stop operation of commercial diesel vehicles that are above 15 years along with setting up of PUC centres in all petrol pumps and service centres. Regular checking of vehicle pollution and PUC, ban on diesel powered auto rickshaws /tempos as well as promote e-rickshaws. He emphasised on monitoring of vehicle fitness, periodic calibration of PUC measurement instrument, promotion of new electric vehicles and CNG vehicles.
He also directed the Food and Civil and Supplies Department to increase use of clean fuel CNG/LNG in diesel/petrol supply companies vehicles and check adulteration in fuel. Conduct special campaigns to ensure use of cleaner fuel at homes, dhabas, restaurants, hotels, breakfast centres, and at food stalls. Kiyawat asked the Bhopal Municipal Corporation to improve intersections, ensure free left turn, construction of over bridges, road widening, re-designing of rotary, subway construction for pedestrians, multi level parking, increase multilayer parking and stop street parking and also directed to encourage new electric vehicles, CNG vehicles. He also directed to encourage regular cleaning of road dust (dry cleaning), wet cleaning of roads, construction of road shoulders and pavements, road side plantation, development of green belts at major intersections including open areas, gardens, parks, public places, schools and housing societies etc. Instructions were also given for installation of water fountain, repair of repairable roads under the city area, plantation, green wafer zone, and promotion of park development.
Kiyawat instructed that there should be a ban on burning of solid waste, biomass, plastic, rubber, horticulture and agricultural waste in the open. Arrangements should be made to remove silt and waste from the cleaning of drains immediately. He directed the Madhya Pradesh Pollution Control Board to establish and operate air pollution control plants in industries, ensure compliance of emission standards in industries. Take steps like use of cleaner technology in brick kilns, shifting of polluting industries and ban on establishment of polluting industries. Divisional Commissioner Kiyawat directed the officers concerned to run public awareness programs to save the environment.