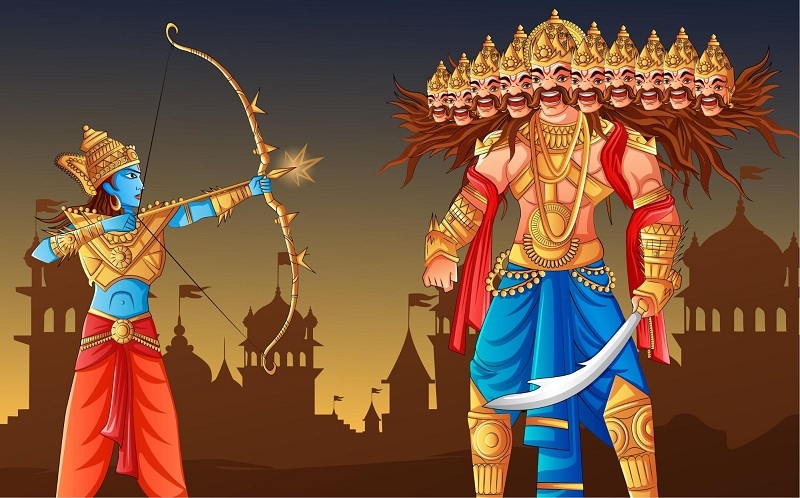 By Rajendra Diwe :
Vijay Muhurat - 1.56 pm to 2.43 pm; Duration 47 mins
Aparahna Puja time - 1.09 pm to 3.29 pm; duration - 2 hours 20 mins
Dashami Tithi began at 6.52 pm on October 14 and will end at 6.02 pm on October 15
Shravana Nakshatra began at 9.36 am on October 14 and will end at 9.16 am on October 15
Dussehra or Vijaya Dashami is the tenth day of the Navratri festival. It calls an end to the festival and is often considered symbolic of victory of the good over evil. It is also evident of a new beginning. It marks the day on which Lord Rama achieved victory over Ravana. This day is also symbolic of the end of Mahishasur, the king of demons who was killed by Goddess Durga on this day. Rituals on Vijaya Dashami: n Ayudha Puja is very important in South India mainly in Karnataka, Tamil Nadu, Andhra Pradesh, Telangana and Kerala. Ayudha Puja is also known as Shastra Puja and Astra Puja. In its modern form Ayudha Puja has become Vahana Puja when people worship their vehicles including cars, scooters, and motor bikes.
During Vahana Puja, all sort of vehicles, which are in use, are decorated with vermilion, garlands, mango leaves and banana sapling and worshipped. Most significantly during Vahana Puja, a white pumpkin is decorated with vermilion and turmeric and smashed in front of the vehicle as a custom to get rid of all sorts of evils. n Shami Puja is one of the important rituals which are performed on Vijaya Dashami day. Traditionally, Shami Puja is done by Kshatriyas and the kings.
n Devi Aparajita is worshipped on the day of Vijaya Dashami. The best time to perform Aparajita Puja is Aparahna time as per Hindu division of the time. Goddess Aparajita is worshipped for the victory. It is believed that Lord Rama worshipped Goddess Aparajita on Vijaya Dashami before his departure for Lanka to defeat Lankapati Ravana. According to mythology, Goddess Durga was created by the Gods by pooling in their spiritual powers as they wanted to create 'shakti' that was ultimate and could annihilate Mahishasur. Spiritual Importance: According to International Yoga Guru and spiritual healer, Krishna Guruji, "In present days, the custom of Ravan Dahan has become a mockery of this great days. This festival should not be celebrated to burn effigies of Ravana and Kumbhakarna. Each person in present days has qualities of both Ravana and Rama.
Ravana is seen in each house and the psychological qualities of present day educates people are not less than Ravana. It is therefore, needed to contemplate on good and bad qualities. Let's invoke Rama present inside and kill Ravana who is symbol of evil thoughts." Brahmakumaris in its message states; "Ravana stands for our weaknesses, the flaws and vices in us. Lust, anger, greed, ego and attachments are the five vices in male and five in female. Both put together are known as ten-headed Ravan personified. Dussehra is observed as a festival in memory of winning over our own vices. It is to kill those negative characters within us and become a pure soul."