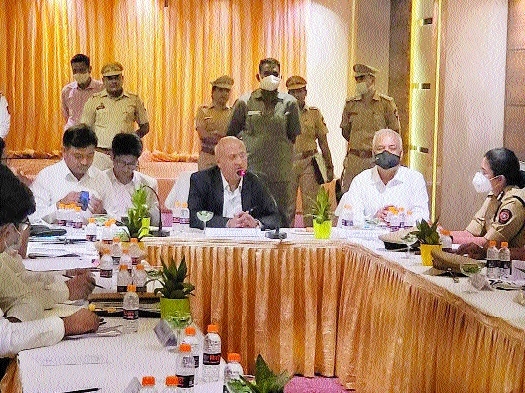 Justice (retd) Abhay Sapre interacting with officers including
Dr Bhushankumar Upadhyay, Additional DG (Highways); Aswathi Dorje, Joint Commissioner of Police, and others, during a meeting held here on Sunday.
Staff Reporter :
Justice (retd) Abhay Sapre, Chairman of Road Safety Committee constituted by the Supreme Court, holds meeting in city and asks officials to make efforts to reduce road accidents
"Violation of speed limit is the main reason behind most road mishaps. As many as 69 per cent of road accidents happen because of this. Hence, Police Department and Transport Department need to implement the rules in this regard strictly and create deterrence against violation. This will help reduce road accidents and save lives," said Justice (retd) Abhay Sapre, Road Safety Committee constituted by the Supreme Court. Justice Abhay Manohar Sapre was speaking at a meeting of the committee, at Hotel Pride here on Sunday. Dr Bhushankumar Upadhyay, Additional Director General of Police (Highways); Dr Avinash Dhakne, Transport Commissioner; Vimala R, District Collector; Aswathi Dorje, Joint Commissioner of Police; Sarang Awad, Deputy Commissioner of Police (Traffic); Vijaykumar Magar, Superintendent of Police, Nagpur Rural; Yogesh Kumbhejkar, Chief Executive Officer of Zilla Parishad; Dr D V Paturkar, Civil Surgeon; Wadettiwar, General Manager of National Highway Authority of India; Khanderao Deshmukh, Regional Transport Officer; Bajrang Kharmate, Deputy Regional Transport Officer, Nagpur Rural; and other officers attended the meeting.
Addressing the officers, Justice Sapre observed that loss of life and financial loss incurred due to road accident had long-term impacts on the lives of family members of accident victims. Hence, the issue of road accidents should be handled with sensitivity. He also spoke on measures to be taken to reduce the number of road accidents and number of fatalities. "The quality of road construction should be ensured.
The works relating to 'Black Spots' should be completed expeditiously, and quality check should be carried out after completion of work to assess if number of accidents at these spots came down, he added. Justice Sapre emphasised upon the need for making the people aware of various aspects of road safety by way of effective co-ordination among agencies concerned. The persons injured in road mishaps must get medical treatment immediately, and other related actions should be taken expeditiously. Government may construct good roads, have speed-breakers, traffic sign-boards at appropriate locations. However, he observed, "It is for the people to wear helmet, use seat-belt, not go wrong side, not ride/drive in an inebriated condition, and follow self-discipline as well as traffic rules." He appealed to the agencies concerned to implement awareness drives regularly.