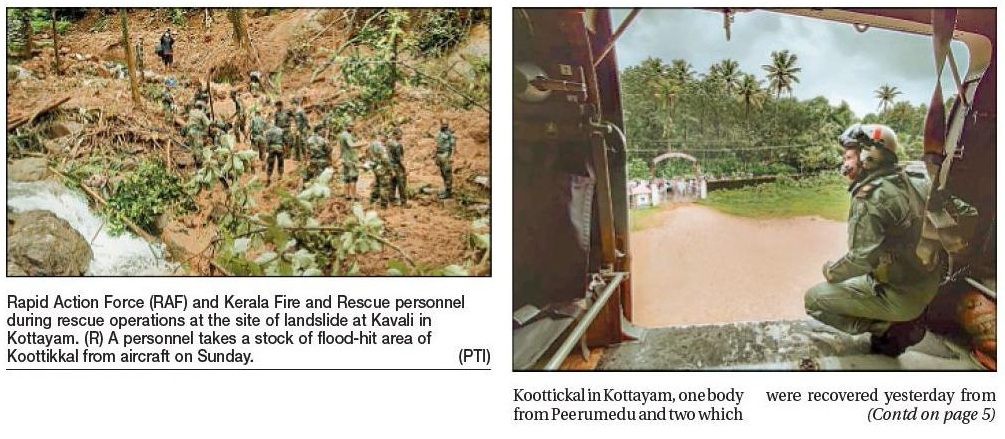 KOTTAYAM/IDUKKI :
The toll from disastrous flooding caused by heavy rains and landslides in hilly areas rises to 18
THE Army, Navy and Air Force have been mobilised to carry out flood relief operations in Kerala on Sunday as unprecedented rains resulted in heavy flow of water in various rivers, flooding multiple districts in the State. The toll from disastrous flooding caused by heavy rains and landslides in hilly areas of two central Kerala districts rose to 18 as rescue workers recovered more bodies from the rubbles on Sunday. State Revenue Minister K Rajan said the rescue workers have recovered 15 bodies from the debris and slush of the landslides that had hit various places of Idukki and Kottayam districts on Saturday. "The rescue workers have recovered 15 bodies till now.
This includes 12 bodies from Koottickal in Kottayam, one body from Peerumedu and two which were recovered yesterday from Kanjar in Idukki district," Rajan told PTI. Idukki District Collector Sheeba George said three bodies were recovered from Kokkayar in Idukki district on Sunday, a hilly region which was heavily hit by Saturday's devastating landslides. "The search is on for five missing persons," she told PTI. Officials said the bodies of three children buried under slush were recovered after an intense rescue efforts. The children, aged eight, seven and four, were found holding to each other, officials said. Kerala Leader of Opposition V D Satheesan, who visited Kokkayar and Koottickal alleged that the State Government failed to launch rescue operations in time in the affected areas. At Koottickal in Kottayam district, a family of six including a 40-year-old man, his 75-year-old mother, 35-year-old wife and three girl children aged 14, 12 and 10 were killed as their house was swept away in the landslide. Bodies of three were recovered and remaining bodies were found by the rescuers during their efforts on Sunday.
Meanwhile, the heavy rains subdued a day after it wreaked havoc in the State. Earlier, an Army team had arrived at the tragedy hit sites and launched a search operation for the missing persons. A Navy chopper reached the affected areas with relief materials. Chief Minister Pinarayi Vijayan on Sunday urged the people of the State to exercise extreme caution even as the weatherman has withdrawn Red and Orange alerts for the south-central districts of the State and asked the public to follow the instructions of the authorities. In an early morning operation, NDRF teams have rescued nearly 80 people who were stranded in waterlogged areas of Pathanamthitta district. Centre will provide all help to Kerala: Shah:THE Centre will provide all possible assistance to the people of Kerala who have been affected by heavy rains and resulting floods, Union Home Minister Amit Shah said on Sunday. He said in a tweet that the Government was "continuously monitoring the situation in parts of Kerala in the wake of heavy rainfall and flooding."
"The Central Government will provide all possible support to help people in need. NDRF teams have already been sent to assist the rescue operations. Praying for everyone's safety," Shah said. Flash floods at waterfalls as south TN sees heavy rains: IN WAKE of incessant and heavy rains in southern Tamil Nadu, flash floods were reported in Courtallam waterfall in Tenkasi district and in Chinna Suruli waterfalls in Theni district. Forest Department officials are cordoning off the areas to prevent entry of public. Districts in south Tamil Nadu - Theni, Dindigul, Madurai, Ramanathapuram, Virudhunagar, Sivaganga, Thoothukudi, Tenkasi, Tirunelveli, and Kannyakumari - have been witnessing heavy rains for the past couple of days and regular rains in the month so far. This, according to Indian Meteorological Department (IMD), is much higher, compared to the rains of 2019 and 2020.