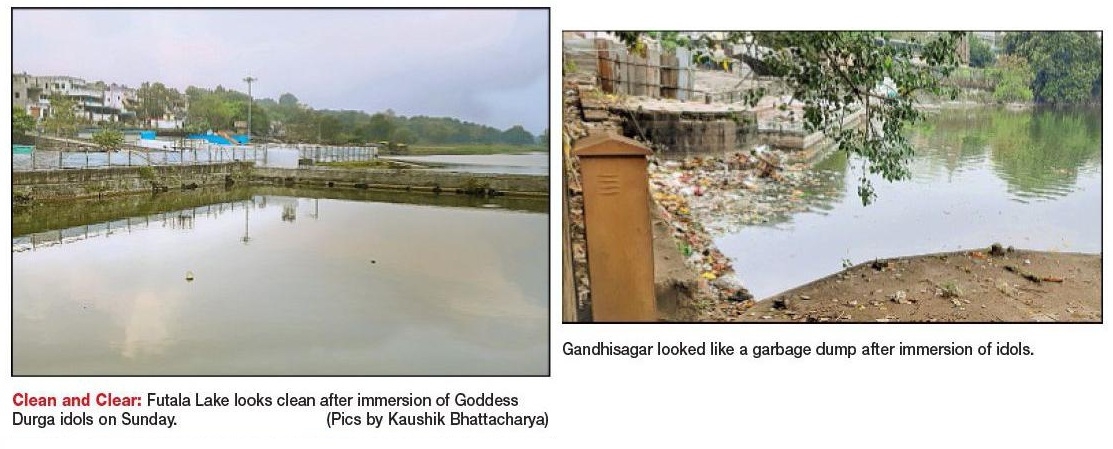 By Kaushik Bhattacharya :
Futala Lake, the most iconic water body of Nagpur, has first time in the history is clean after immersion of Goddess Durga idols on Sunday. To reduce pollution of water bodies of the city during Visarjan, Nagpur Municipal Corporation (NMC) had imposed strict ban on idol immersion in city lakes. The civic body made adequate arrangements for Goddess Durga idols immersion at Futala, Sonegaon and Gandhisagar lakes this year. The efforts made by the civic body to maintain waters of Futala and Sonegaon lakes clean have yielded remarkable results. But, the Gandhisagar once again wore a shabby look after Visarjan due to lack of barricading by NMC and poor civic sense of citizens. "We put up 12 artificial tanks at Futala for ghat and idol immersion. Idol immersion in all three lakes was completely banned this year and we deployed our teams along with police to monitor and maintain discipline during visarjan," Dr Gajendra Mahalle, Nodal Officer, NMC told The Hitavada.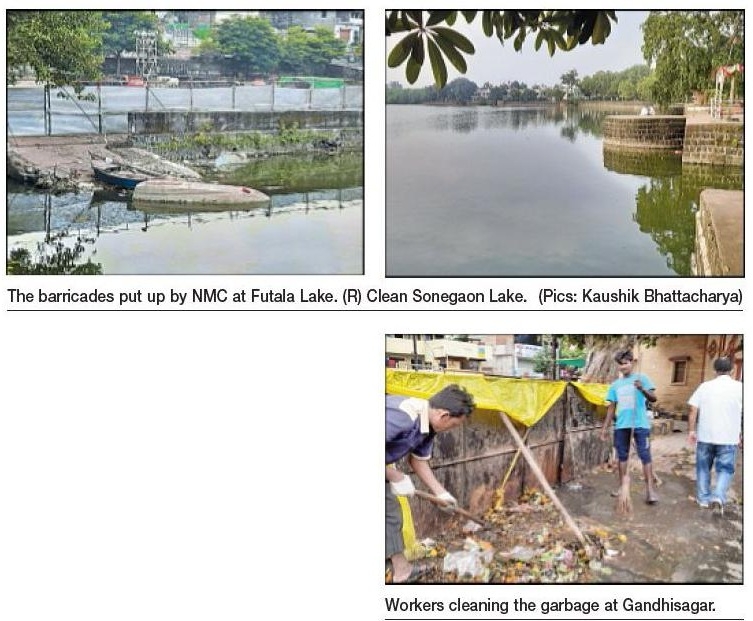 Dr Mahalle said, "The small idols were immersed in artificial tanks at Futala lake and most of the big idols were diverted to Sonegaon and Gandhisagar. It helped us maintain the smooth conduct of immersion process with full precaution." NMC installed artificial tanks, barricaded all sides of the lake, deployed firemen with boats etc for smooth conduct of Visarjan at Futala and Sonegaon lakes. Like Futala, Sonegaon lake is also clean after the visarjan. A big Re-enforced Cement Concrete (RCC) tank which was constructed in 2010 at Sonegaon lake, was good for all idol immersion in last two days. "Out team is working hard day and night to perform smooth visarjan at Sonegaon lake. We are not allowing people to discard nirmalya in the lake and not even in the RCC tank. A separate artificial tank is there for ghat visarjan and nirmalya were dumped in the kalash," informed Santosh Chutalkar, Supervisor, Laxmi Nagar Zone.
Chutalkar said, "There are more than 150 immersions took place in last two days in the cement tank of Sonegaon lake. We also managed many 6-7 ft tall idols too in the tank. Cleaning of the tank is must and every morning we clean it before immersion." Kaustav Chatterjee, Founder, Green Vigil Foundation said, "NMC did a commendable job by barricading Futala lake for the first time during Devi Visarjan. Futala lake has been witnessing maximum ganpati and devi idol immersion since decades. Further, on going development work prohibited access of devotes from chaupati side too. Thus, for the first time, combined efforts from all stakeholders, Futala lake and it's ecosystem have been completely saved during ganpati and devi visarjan, as not a single idol was immersed in the lake."
Lack of civic sense, poor management turn Gandhisagar shabby post-visarjan On one hand NMC managed the visarjan at Futala and Sonegaon lake remarkably, on the other Gandhisagar giving a shabby look after immersion. Lack of proper barricading, poor cleanliness and lack of civic sense among citizens turned the lake into a garbage pit. The immersed idols floating over the Re-Enforced Cement Tank (RCC Tank) of Gandhisagar releasing bad odour. The artificial tank installed is also leaked and the polluted water is directly entering into the lake. The Mahal side of the lake is open and people immersed idols and nirmalya directly into the lake without any restriction. "The most of the visarjan this year took place at Gandhisagar. Like Futala and Sonegaon lakes, we lagged to manage the process at Gandhisagar. Less number of artificial tank is another reason for immersion in the lake," said Dr Gajendra Mahalle, Nodal Officer, NMC. "NMC lagged in managing immersion in Gandhisagar once again. Though the main entry point was barricaded but devotees had an access to lake from road side at some particular points, which some devotees preferred instead of immersion in concrete artificial tank," said Kaustav Chatterjee. He said, "The floating nirmalyas speaks about the volume of idol and nirmalya immersion done in Gandisagar lake. Overall, it has been a significant success towards protecting city lakes and its ecosystem."