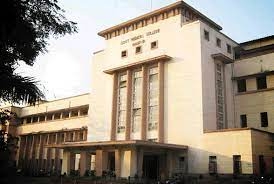 THE Government Medical College (GMC), Nagpur is celebrating its Platinum Jubilee year, a global event of the Council of Deans. It is conceptualised and organised by GMC Nagpur Alumni Online. This project is by Hope Medical Education and Research Foundation's Trust, Nagpur. It is sponsored and supported by Hope Hospital, Nagpur and Ayushman Nagpur Hospital.
Dr Sudhir Neral, Secretary of GMC Alumni Nagpur and owner of Galaxy Diagnostics in Ramdaspeth will coordinate the event. The event will start with an extravagant 'Confluence'. A virtual meeting with alumni from all over India and all over the world will be held on Zoom platform on October 2, 2021.
It will be streamed on 10 platforms i.e. Facebook, YouTube, LinkedIn, Twitter, websites and news channels. To get the link to attend just whatsapp a request on 9373111709. It will be attended by about 3,000 alumni and friends all over the world.
The chief guest of the event is Dr Sanjay Mukherjee, Vice-Chairman and MD of CIDCO. Previously, Principal Secretary, Medical Education, Food and Drugs Administration.
Patron is Dr Sudhir Gupta, Dean of GMC, Nagpur.
Some of the notable alumni who are joining are Dr Praveen Gedam, Additional CEO of NHA, Dr Parikshit Zade, Dr Sandeep Rathod senior IAS officers and alumni of GMC Nagpur. MP and MLAs like Dr Vikas Mahatme, Dr Sunil Deshmukh and Dr Ranjit Patil. Lieutenant General in the Army, Dr M A Tutakne, Magsaysay awardee, Dr Prakash Amte and Dr Mandakini Amte, Padmabhushan Awardee and others. All alumni and friends can join at https://bit.ly/confluence-reg.