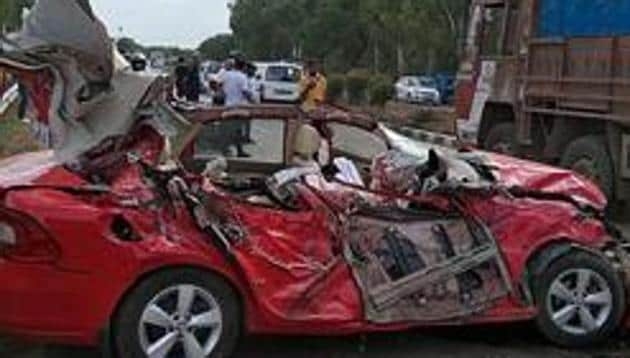 THREE persons of a family died, while one other was injured after the vehicle they were travelling in rammed into another vehicle.
The incident occurred on Friday morning near Chachhan Mountains on National Highway-53 under Tumgaon Police Station limits. The deceased have been identified as Budhram Khunte (40) and his sons Shivam (12), besides Omprakash Khunte. Budhram's wife Sewanti Khunte was injured in incident.
Shivam died on the spot, while Budhram and Omprakash breathed last under-treatment in hospital. Bodies were sent for post-mortem while injured Sewanti was admitted in hospital.
It is reported that Budhram and his family, in their Maruti van, were heading from Raipur to their native Pilwapali village near Basna. Near Chachhan, Budhram lost control over steering all of a sudden and eventually, van rammed into a stationary vehicle from behind. The broad-day light incident claimed life of Shivam, leaving other three severely injured. The eye-witnesses of incident reported to police and subsequently, a team of police personnel rushed to the spot. Shivam's body was sent for post-mortem while Budhram,Omprakash and Sewanti were rushed to hospital. Later, Budhram and Omprakash too succumbed to injuries. ASI Netam who was present on the spot said it is hard to search other vehicle involved since area is far-off and CCTV cameras are not available nearby. A case has been registered. The Maruti van rammed into the vehicle, but no vehicle was seen by the time police reached there, said Tumgaon SHO Ramavtar Patel.