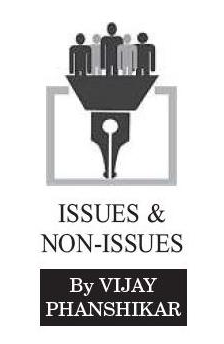 l The Prime Minister has violated the principle of delegation of power. Without the permission of the Speaker of the Lok Sabha, he visited the construction site where new Parliament building is to come up.
- Mr. Asaduddin Owaisi,
President of All India Majlis Ittehadul Muslimeen (AIMIM).
l Instead of creating a photo-op by paying a late evening visit to the Central Vista construction site, the Prime Minister should have visited a factory manufacturing medical-grade oxygen.
- A Congress spokesman.
l The Prime Minister is all the
time engaged in photo-ops and PR activity. Instead, he should pay attention to governance.
- Samajwadi Party spokesman.
THESE comments do not communicate any serious thought about criticising Prime Minister Mr. Narendra Modi; they only show the flippancy of the Opposition parties. By indulging in making such remarks, they only show how hollow and shallow they are.
But as the Opposition leaders heaped criticism (so-called) on the Prime Minister, the nation expressed an unmitigated happiness that Mr. Narendra Modi had good enough energy and enthusiasm to pay a late evening visit to the Central Vista construction site in the national capital even after a gruelling, 14-hour flight back home from America and a 10-hour day full of high-octane meetings. Common people felt astonished by the Prime Minister's energy at the age of 71 years.
But quite understandably, the Opposition cannot afford to harbour such a generous feeling about Mr. Narendra Modi's hectic schedule that covers about 18 hours every day, day after day, week after week, month after month, year after year -- for the past full twenty years. It was in October 2001 that Mr. Narendra Modi first assumed Gujarat's Chief Ministership. And since that day for full twenty years, he has been working 18-hour days without a single leave.
And that is the actual problem of the Opposition. Their actual problem is that they lack the vision to point to actual issues on which they can pin down Mr. Narendra Modi (who also served two-and-a-half terms as Chief Minister of Gujarat). There may be quite many aspects of Mr. Modi's working that may require a serious correction. But the Opposition collectively is not in a position to pin-point those. So, they fulfill that obligation -- of criticising the Prime Minister -- by raising juvenile points that actually make no sense to the common people. Thus, they ultimately make a laughing stock of themselves.
Let us look at what Mr. Asaduddin Owaisi said -- violation of the principle of delegation of powers, because Mr. Modi visited the Central Vista's construction site without the permission of the Speaker. There cannot be any bigger nonsense than this. For, when the construction work is still in progress and the new building is yet to come up and it is yet to be declared as Parliament and yet to be handed over to the Speaker, how can the Prime Minister seek his (or her) permission to visit the site? And why? -- if we may ask.
Other objections do not deserve any deliberation at all, except stating that all those come under the category of huge nonsense.
And let alone this scribe, the whole nation recognises this reality -- which has been reflected in electoral outcomes over the past some years in the form of massive victories of the BJP led by Mr. Narendra Modi and his team of associates.
The biggest grief is that the country's political Opposition does not have the intellectual wherewithal to counter the Prime Minister's energy and enthusiasm and range of activity and vision. They are ones, therefore, who are responsible for the lopsided discourse heavily tilted in the Prime Minister's favour year after year. That is simply because they have been blinded by a rage seething inside them about their own incompetence, about their own lack of capability, about their lack of courage to face the truth.
The Opposition's problem is that the Prime Minister rises before dawn every morning, completes his daily chores including exercise and meditation and quick breakfast and gets down to work (when most Opposition leaders are still in bed). Their problem is that barring a couple of breaks for quick working lunch or a cup of tea (which Mr. Narendra Modi personally cherishes), he goes on working till later evening -- that includes several high-level, and even secret, meetings addressing specific gatherings, attending diplomatic duties, entertaining equals among world leaders, handling countless numbers of students and women and anybody whosoever wishes to talk to him every day without fail. Their problem is that even as the Prime Minister goes through such a gruelling schedule on a continuing basis, they have nothing to criticise him on genuine issues. Hence their juvenile efforts to point fingers at the Prime Minister.
In fact, the Opposition has problem with everything the Prime Minister does or does not do. So, they accuse that United States Vice President Mrs. Kamala Harris did not tweet about her meeting with Mr. Modi, and showed him his place. Then came a belated Kamala Harris tweet, and the Opposition did not know what to say. And because the Prime Minister's successful trip to America did not offer it any point to blast, the Opposition found pleasure in pointing fingers at his visit to the Central Vista site.
What a poverty of ideas! What an intellectual bankruptcy!
That is what the Opposition has been -- obsessed by the goal to oust Mr. Narendra Modi in whatever manner possible. In the process, the Opposition has lost sight of reasonableness and common sense. It has also forgotten its fundamental duty to work as a democratic watchdog to checkmate the Government in places where it is most needed. Instead, it has converted into a bunch of barking street dogs that have no other occupation except giving out wailing sirens to show that they are awake.