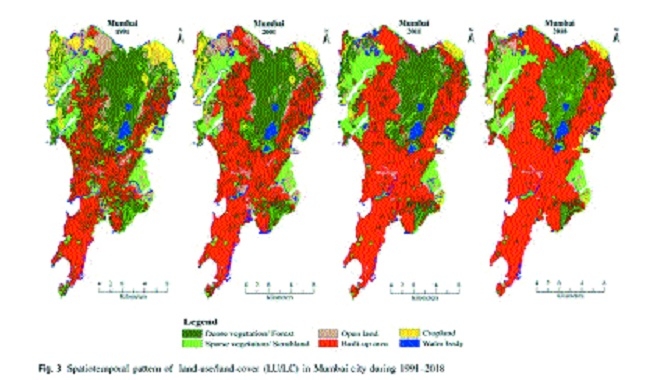 NAGPUR,
A RECENT study published in a peer-reviewed journal indicates that Mumbai has lost 81 per cent of its open land, 40 per cent of green cover, and approximately 30 per cent of its water bodies between 1991 and 2018 while the built-up area of the city has risen by 66 per cent during the same period. Based upon the findings, the study concludes that Mumbai witnessed a rise of 2 degree Celsius in average temperature between 1991 and 2018. The study has been conducted by a group of researchers from Faculty of Natural Sciences, Jamia Millia Islamia (JMI) University in New Delhi, Osmania University in Hyderabad, and Aligarh Muslim University in Uttar Pradesh. The study 'Urban Heat Island Dynamics in Response to Land-Use/Land-Cover Change in the Coastal City of Mumbai' has been published in the peer-reviewed Springer Journal of the Indian Society of Remote Sensing. It has found that with this pace of urbanisation and landscape transformation, the Urban Heat Island (UHI) intensity is expected to increase further in Mumbai. The authors of the study are Shahfahad, Mohd Rihan, Mohd Waseem Naikoo and Prof Atiqur Rahman from Department of Geography, Faculty of Natural Sciences Jamia Millia Islamia; Mohd Akhter Ali from Department of Geography, University College of Science, Osmania University, Hyderabad; and Tariq Mahmood Usmani, Department of Geography, Faculty of Science, Aligarh Muslim University. The abstract of the study states, "The result shows a significant decline in vegetation cover from 215.8 sq km to 129.27 sq km, while the built-up areas have almost doubled, i.e., from 173.09 sq km to 346.02 sq km in Mumbai city during 1991-2018."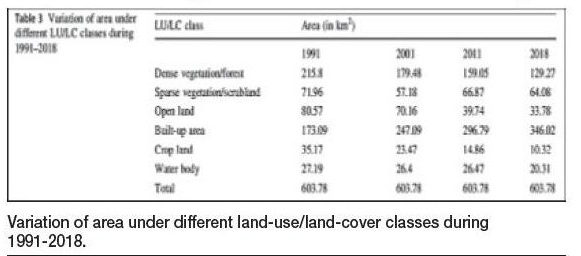 As a consequence of this 'development', a significant increase in the Land Surface Temperature has been noticed in both UHI and non-UHI zones. The extreme heat that one experiences when strolling through any urban landscape is caused by the Urban Heat Island effect, a micro-climatic phenomenon. This is due to a number of causes, the most prominent being the usage of materials such as concrete, explained Prof Atiqur Rahman. "This will not only deteriorate the urban thermal environment but also increase the serious risks to health for city dwellers," he said, adding that the rise in heat intensity in Mumbai was linked to the declining green cover in the city, which is the result of the large-scale transformation of the green cover into built-up land for infrastructure development. The study noted that during 1991-2018, Mumbai city lost nearly 40 per cent of its green cover including forests (dense vegetation) and scrubland (sparse vegetation) that fell from 287.76 sq km in 1991 to 193.35 sq km in 2018. The area of open land also reduced by more than half from 80.57 sq km in 1991 to 33.7 sq km in 2018. Mumbai also saw reduction in area of water bodies from 27.19 sq km to 20.31 sq km.
The conversion of open lands, green cover and water bodies to buildable land showed an increase from 173.09 sq km in 1991, which almost doubled and reached 346.02 sq km in 2018. Transformation of these areas significantly altered the dynamics of land surface temperature and UHI intensity. "We observed that the average temperature in 1991 was 34.08 degrees Celsius. It rose to 36.28 degree Celsius in 2018 (a 2.2 degree Celsius increase) under the heat island zones (vulnerable areas) thus exposing people to higher heat risk," said Shahfahad, lead author of the study. According to the authors of the study, to overcome the heat stress there is an urgent need to promote urban greening at micro-level, wards or mohalla level, and rooftop terrace gardening as well as 'discouraging the use of glasses in the high-rise buildings' etc. The increased mortality rate due to increasing UHI intensity has been noted in several cities in Europe and Northern America, said Prof Rahman.
Therefore, he stressed, there is an urgent need for decision-makers to understand the health impact that this might have on citizens, and mitigate this rise in heat intensity by increasing the green cover. The authors have also made some key recommendations in this regard. One of these is proper land use planning for the newly developing area, especially in the suburban district experiencing maximum increase in UHI intensity. The recommendation of World Health Organisation can be followed, setting a minimum limit of per capita green space in urban areas as 9 sq mtr for a healthy living. The European Union has set a similar limit of per capita green space as 26 sq mtr for the cities of European countries. The city dwellers can also help in UHI mitigation through roof-top gardening, vertical gardening, and planting trees at community level, the authors stated.