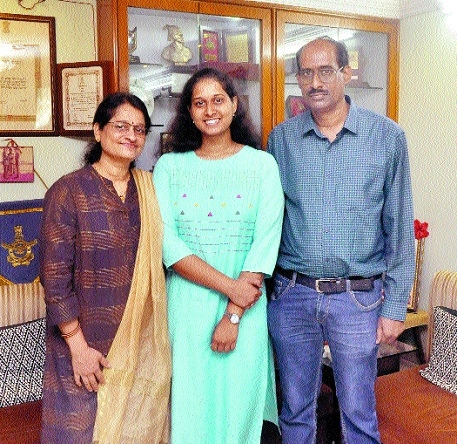 Ruchita Sawant with
her parents.
Staff Reporter :
The women officers, who maintain a balance between personal and professional life, are perfect example of women empowerment. Orange City's Ruchita Sanjay Sawant is another example and a source of inspiration for those aspiring to join the Armed Forces. Ruchita is set to make it to the 28th Short Service Commission Women (Non-Technical) Course in Officers Training Academy, Chennai, as she cracked the Combined Defence Services Examination (CDSE) (II), 2020 conducted by the Union Public Service Commission. Later she cleared the interview conducted by the Services Selection Board (SSB) of the Ministry of Defence. In the CDSE, Ruchita bagged All India Rank (AIR) 10 and secured her place among the 17 women cadets who would be joining OTA, Chennai in October. Ruchita did her schooling from Sandipani High School, Hazari Pahad, with 9.8 CGPA in Class 10, and 86.46% marks in Class 12. She completed BSc in Micro Biology from LAD College with 79% marks.
Ruchita completed Masters Degree from Bengaluru, recently. A merit student throughout, Ruchita was very active in sports and other extracurricular activities in school and college too. Ruchita was motivated to join the forces by her mother who always supported and encouraged her to prepare for it. Ruchita's father Sanjay Sawant was in Nigeria for job when she was preparing for the services. But he also stood by her and motivated her. Ruchita's mother is a teacher in Sandipani High School. Her younger brother is preparing for his Class 12 board examination. Ruchita cleared the examination in 4th attempt. Earlier, in 2019, she appeared in SSB interview where she got AIR-18. But the seats for women cadets were just 15 that time.
"Getting place in the merit list was a big achievement, but not selected just because of limited seats in OTA was a big disappointment for me," said Ruchita. She also said, "The rejection encouraged me to get seat into OTA and finally now I am going to Chennai." While talking about the examination and interview, Ruchita said, "Personality and presence of mind play major role in facing the interview. You have to be vigilant and confident to clear it." Though it is just a small milestone, Ruchita is confident and aware about the future challenges that she is going to face in OTA before commissioning as a soldier in the Indian Army.