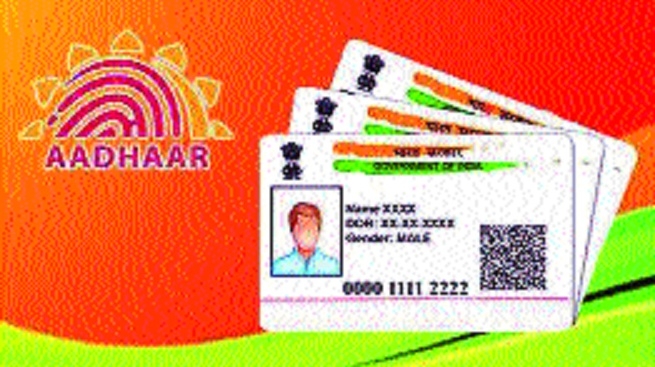 Staff Reporter :
The nation celebrated the 11th anniversary of issue of Aadhaar number a few days ago. Taking stock of the progress of Aadhaar, which is touted as the world's biggest biometric identification initiative, reveals that Vidarbha region has recorded as many as 2,49,72,302 Aadhaar registrations so far. Interestingly enough, in sheer numbers, Nagpur district stands fifth in Maharashtra in highest Aadhaar registrations. Gadchiroli district, which is affected by Maoist terrorism, stands second from the bottom in Aadhaar registrations. As far as Maharashtra is concerned, the data reveals that barring Palghar (66 per cent), Mumbai Suburban (81 per cent), and Thane (89 per cent), all other districts in the State have recorded 'more than 100 per cent' registrations.
The 'more than 100 per cent registrations' are on account of registrations by migrant populations, labourers, and also updating of children's biometrics as they grow up, said an official. Obviously, among 11 districts of Vidarbha, Nagpur tops the chart in Aadhaar registrations so far. In fact, of a total 2,49,72,302 registrations in Vidarbha, as many as 51,15,881 are from Nagpur district alone. It is followed by another divisional headquarter-district in the region -- Amravati. Within the region, only Gadchiroli district has reported less than 13 lakh registrations. Aadhaar registration was started in the country from Maharashtra. On September 29, 2010, the first Aadhaar registration number was issued to Ranjana Sonawane, a resident of village Tembhali in Nandurbar district of the State.
Since then, several changes have taken place and the system of registration has become more robust. Aadhaar number is an important and unique identification document that has been linked, over the years, to bank accounts, mobile phone SIM cards, provident fund schemes, public distribution system etc. However, Aadhaar card is not a proof of citizenship. Of late, the 12-digit Aadhaar number and card have proved useful in direct benefit transfer in various schemes.