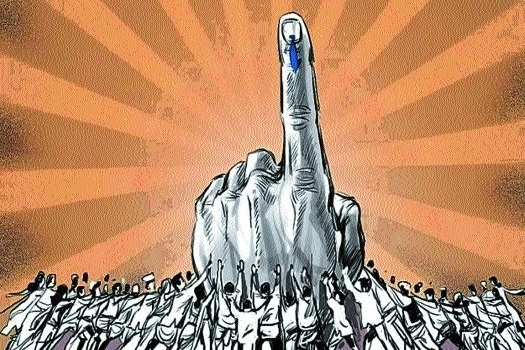 The campaign for the Zilla Parishad (ZP) and Panchayat Samiti (PS) bypolls in Nagpur district, came to an end on Sunday late night. A marked feature was that the ruling Congress party continued its intense campaign till almost the last hour, with its leaders addressing campaign rallies in villages. With the end of the campaign, now all eyes are on October 5, the polling date. The counting of votes will begin the very next day, that is, on October 6. In all, 79 candidates are in the fray for 16 seats of ZP and 125 are contesting for 31 seats of various PS. This time, the stakes are high for Congress party. For, it is not only the ruling party in Nagpur ZP, but also a partner in Maha Vikas Aghadi (MVA) alliance Government in Maharashtra. In the 58-member ZP House, 25 seats were reserved for General category, 10 for Scheduled Caste, seven for Scheduled Tribe, and 16 for Other Backward Classes (OBC) when the elections were held in the year 2019.
As per the composition of ZP House after 2019 elections, Congress had single-handed majority with 30 seats, followed by its alliance partner Nationalist Congress Party (NCP) having 10 seats, another alliance partner Shetkari Kamgar Paksha (SKP) having one, Shiv Sena had one, Bharatiya Janata Party (BJP) had 15 seats, and one member was Independent. With the Congress winning single-handed majority, it staked claim to both the top posts in ZP and its Rashmi Barve became the President, and Manohar Kumbhare became the Vice-President. However, later on, the OBC reservation was contested and earlier this year, following the Supreme Court order, 16 members lost their membership. These 16 members included seven of Congress, four each of NCP and BJP, and one of SKP. As a result, bypolls are being held to fill these 16 seats in ZP, and 31 in different Panchayat Samitis in the district. Interestingly, though Congress, NCP, and SKP are contesting in alliance, Shiv Sena is going solo despite being a constituent in MVA alliance ruling in the State.
Congress has fielded candidates from 10 seats, NCP from five, and SKP from one seat in alliance. For the Congress party, it is a high-stakes battle. Sunil Kedar, Animal Husbandry Minister; Rajendra Mulak, District President of the party, and other leaders were on a hectic campaign and addressed several rallies in several villages to win as many seats as possible out of 10. The campaign period witnessed some political controversies also. Adv Ashish Deshmukh, former MLA and Congress leader, attended a meeting in support of BJP candidate. This stoked controversy and Kedar was unhappy over it. In the meeting of Congress' district unit, Kedar flayed 'leaders betraying the party', and Youth Congress workers demanded expelling Adv Ashish Deshmukh. Maharashtra Pradesh Congress Committee has ordered a probe into the episode. Adv Ashish Jaiswal, Ramtek MLA who won Assembly elections as an Independent candidate and later owed allegiance to Shiv Sena, also courted controversy when he described MVA alliance partner Congress party as 'near-dead'. He also accused some leaders, without naming anyone, of 'buying votes'. He was peeved over MVA partners Congress and NCP fielding their candidates for ZP and PS bypolls at seats where Shiv Sena candidates too were in the fray.