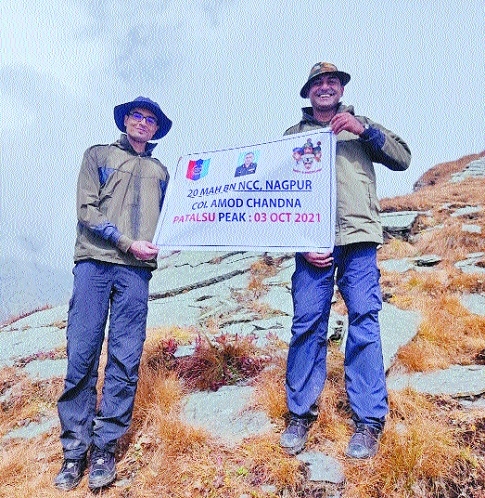 Father-son duo Colonel Amod Chandna and Ishan after
successfully scaling Patalsu Peak in just two days.
By Nitisha Jain :
A FIRM believer of living life to the fullest, Colonel Amod Chandna, Commanding Officer, 20 NCC Batallion, Nagpur, and his 17-year-old son, Ishan, scaled Patalsu Peak, at an altitude of 4250 m (approx 14,000 feet) in Manali on Saturday. After a tryst with Lt Colonel Romil Barthwal (retired), an ex-Special Forces Officer, avid mountaineer, Colonel Chandna had made up his mind to go on an adventurous trip with his loved ones. "After the perilous situation we all experienced due to COVID-19, I was craving for a quality time with my family. It was a planned trekking but due to some medical reasons my wife, Ruchira, could not join us. So it was just the two of us," said Colonel Chandna. When asked why he chose Patalsu, Colonel Chandna excitedly said, "We always start with small steps first to achieve big in life.
I wanted to make this first-ever hiking trip a memorable and achievable one for us." Passionate about mountaineering and hiking, Colonel Chandna had been on such tours earlier but to do it for the first time with his teen son was an exceptional experience. A fitness freak, Colonel Chandna made sure Ishan was fine during the entire trip. The doting dad took care of minutest things like the angle of legs while descending to the way Ishan was carrying his rucksack to the food. Ishan, who will soon join 9 Karnataka Bn NCC at Christ University, Bengaluru, said, "I thoroughly enjoyed the first-ever father-son mountaineering trip. Yes, we ended up with blistered feet, sore muscles and tired legs but all this was totally worth it." "I will surely cherish these moments for my life.
The trek in beautiful surroundings of Kullu is an ideal short getaway from mundane routine life. The picturesque views of snow clad mountains towering over Kullu valley, Lahaul and Spiti. It was a mesmerising experience. But there is lot more in the offing," concluded Colonel Chandna.