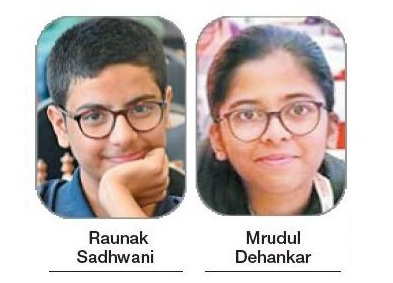 Principal Correspondent :
CITY'S only chess Grandmaster Raunak Sadhwani and Woman International Master Mrudul Dehankar have been picked for the maiden Chess Super League which is being organised by ChessBase India. Both the players will be seen in action alongside some of the great players in international chess.
The league will be held online from the October 11 to 17. Samay Raina of ChessBase India and Nodwin Gaming have come together to start the league. Each team is owned by a well-known celebrity and consists of six top Grandmasters across the globe among men and women, six top men and women players from India and six top Indian junior boys and girls. The six teams of six players each will come together to battle for a prize a whopping Rs 40 lakh.
While Sadhwani (2609) is part of team Brutal Bishops, Mrudul will be seen in action playing for Krazy Knights (2256).
The other members of Sadhwani's Brutal Bishops team include Wang Hao (2744), Vidit Gujrathi (2727), Alexandra Kosteniuk (2518), Eesha Karavade (2345) and Tarini Goyal (2164).
Mruidul's team Krazy Knights has Hikaru Nakamura (2736), Sasikiran Krishnan (2640), Mariya Muzychuk (2536), Mary Ann Gomes (2354) and Aryan Chopra (2585).
The franchise owners of the debut league are Tanmay Bhat, Raftaar (Kalamkaar), Zakir Khan, MortaL (S8ul), Biswa Kalyan Rath and Shreyas Srinivasan (CEO, PayTM Insider).
According to the tournament format posted on ChessBase website, games will be played with a time control of 15 minutes + 10 seconds increment. The league stage of Round Robin format will last for five days and top four teams will qualify for the play-offs while two teams will be eliminated.
Daily, matches will start at 8 pm and will go on until 11 pm (IST).
On October 16, teams that finish first and second will play the Qualifier 1 and the teams that finish 3 and 4 will play the Eliminator 1. The winner of Qualifier 1 will make it to the final. Eliminator two consists of loser of Qualifier 1 against the winner Eliminator 1. The winner of Eliminator 2 will book the final berth which will be held on October 17.