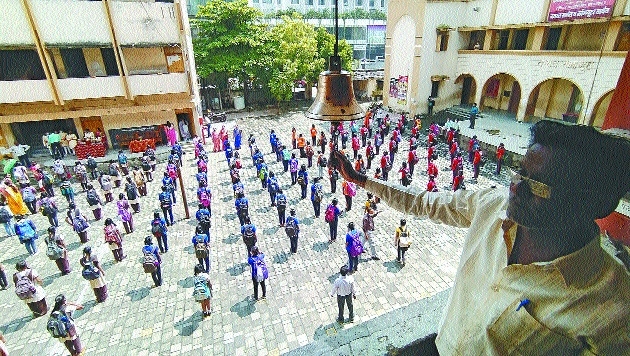 Assembly in Keshavnagar School at Jagnade Square. Norms, including physical distancing, were
followed in the school on the first day of opening since outbreak of COVID-19, on Monday.
Principal Correspondent :
Students did not go immediately to homes after schools got over on Monday, but kept interacting with their friends, teachers
The signature buzz was back at schools after months on Monday. Holding hands of their buddies while stepping into the school premises and meeting their teachers personally, students were as enthusiastic as they were usually on the first day of the start of the academic session. Due to the outbreak of the novel coronavirus pandemic over a year back, the classes were being conducted virtually. The academic session was on but for student-teachers something was amiss. For some students it was an exciting moment. Usually, students are in a hurry to leave the school so that they would be able to reach home early. But, Monday was different as some students stayed at schools even after it got over. They interacted with their buddies, talked to teachers with zeal. Responding to the notification issued by Maharashtra Government regarding opening of schools, Nagpur city witnessed a mixed picture. Some schools opened, but some schools did not due to poor response from the parents.
Dipti Bisht, teacher of Science at Surendragarh Hindi Madhyamik School run by Nagpur Municipal Corporation, said, "Our school has witnessed an enthusiastic atmosphere. Most students turned up with their parents. We welcomed them with flowers, balloons. We also distributed sweets. As per Government norms, we did follow the physical distancing rules. We distributed them Tabs which made them feel happy. As asked by Government, we did not bother students much on academic front. They were allowed to spend the day in a light manner. The students stayed after the school got over." As per norms, Classes V to VII are to be started in the schools in rural area while the Class VIII to X in city, in case of junior college the Class XI and XII too were expected to be opened. But, offline classes have not yet been resumed for Classes I to IV in rural areas and for Classes I to VII in urban areas. In many schools, authorities ensured that all the students have covered their mouths by mask. The person from the school was sanitising them. Government in its notification had made it clear that one student would sit on one bench and most schools followed it. The decision by School Education Minister Varsha Gaikwad to resume physical classes across the State was welcomed by all as the so-called online classes made lose the learning hours of children.
As per SOPs issued by the State Government for the reopening of schools, it is not mandatory for students to attend physical classes. If they want to attend, they will have to submit consent letters from their parents. Dr Shanoor Mirza, Principal of Tata Parsi Girls High School and Junior College, told 'The Hitavada', " We got good response for junior college classes-- for Class XII. But the response was slightly poor as far as classes 8 to 10 were concerned. We are still receiving the responses from parents and we are hopeful that more number of students would come by Tuesday." Most schools in rural areas got poor response on Monday. Anmol Badjatya, Principal of Jain International School, said, "As most parents did not give their consent, we were helpless. Without the consent of parents it would not be wise to start the schools as everybody has been worried about the safety of the child."
Mayor offers roses to students To encourage students to attend school, Mayor Dayashankar Tiwari was himself present to welcome them at Nagpur Municipal Corporation-run Lal Bahadur Shastri English School at Hanuman Nagar on Monday. Expressing regret over the huge academic loss of children and overall education, Mayor said, "I must appreciate the teachers and other staff members for giving online and offline classes wherever they are necessary. Even teachers visited the homes of students who were unable to attend online classes too. Number of students in the schools run by NMC has increased and credit must be attributed to teachers. There is a rise of 70 students in Class I to IV and by 115 in the classes V to X." Mayor, who was accompanied by Chairman of Education Committee Dilip Dive, Senior Corporator Dr Ravindra Bhoyar, Education Officer of NMC Priti Mishrikotkar, Principal of Lal Bahadur Shastri School Sanjay Pund, specifically mentioned that the bond between teachers and students is very strong. Mayor pointed out, "Students can clear their doubts by interacting with the teachers. I appeal teachers to remove the backlog of lockdown and plan for the 100% results of Class X." Madhu Tiwari compered the programme, Sarita Yeole proposed a vote of thanks.