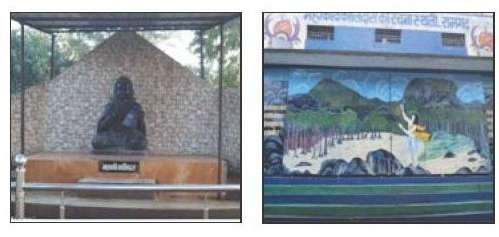 Staff Reporter :
Raipur,
Under the Ram Van Gaman Tourism Circuit Development of Chhattisgarh Government, 9 sites are being developed as tourism places. Out of nine sites, two sites of Surguja division - Seemamarhi Har Chowka located in Koriya district and Ramgarh located in Surguja district – are included. As the Ram Gaman Tourism Circuit is set to be inaugurated in Chandkhuri on October 7, both the aforementioned places connected to the exile period of Lord Shri Ram will emerge with new possibilities in the tourism map of country. Grand preparations are being made to organise a three-day celebration on Navratri for launch of this project at Chandkhuri. A phase of development and beautification of ancient Mata Kaushalya temple complex at Chandkhuri, located near Raipur in the Ram Van Gaman Tourism Circuit, has been completed. Along with the inauguration of the new tourism facilities developed here, the entire Ram Van Gaman Tourism Circuit will come into existence in a new form.
During the exile, Lord Ram had entered Chhattisgarh from Koriya district itself. Sitamarhi-Harchouka located in Janakpur of Bharatpur tehsil is considered to be his first stop. Sitamarhi-Harchouka Cave, situated on the banks of Mawai River, has 17 chambers. It is also known as Sita Ki Rasoi. There is a boulder which is believed to be the footprint of Lord Rama. The cave situated on the Mawai River bank has been cut into 17 chambers, in which Shivling is installed. This place is known as Harchouka (kitchen). Lord Ram had reached Sitamarhi-Ghaghra situated on the banks of Rapa river from Harchouka. There is a 4-chambered cave about 20 feet above, in the middle of which Shivling is established. In the onward journey, he left Ghaghra and reached Ramgarh hill in Surguja district via Kotadola. Ramgarh, located 50 km from Surguja district headquarter Ambikapur, is a site of historical, archaeological and cultural importance. Its height above sea level is about 3202 feet. This place is considered to be the site of creation of Mahakavi Kalidas's unique composition Meghdootam.
It is also famous as the oldest rock theater in the world. The caves of Sitabengra and Jogimara are believed to date back to the Mauryan period in the 3rd century BC. Evidence of inscriptions in the Brahmi script of Mauryan period in Jogimara cave and inscriptions in Brahmi script of Gupta period are found in Sitabengra cave. Another feature of Jogimara cave is that it houses the oldest specimens of Indian murals. In the form of archaeological documents, sculptures, inscriptions and copper plates are considered to be of great importance. Things of such importance are available in Ramgarh. About 8 sculptures are stored in Jogimara Cave. These idols are about 2 thousand years old. Two inscriptions are present in the upper part of Ramgarh hill. The script of this article, written by cutting with a sharp chisel on the stone, is similar to Pali and somewhat similar to Kharoshti. Script experts have unanimously considered it to be the Pali script. Maheshpur Vanasthali near Ramgarh was the Tapobhoomi of Maharishi. About 10 feet above 'Kalidasam' is inscribed on this site itself. There is an accessible tunnel route on the side of Sitabengra, which is called Hathi Pol. Its length is about 180 feet. Its entrance is about 55 feet high. From inside it, a drain flows from this side to the other side. Elephants can easily move in this tunnel. That's why it is called Hathi Pol. Inside the tunnel, a cold water pool has formed due to seepage from the mountain and other geographical effects.