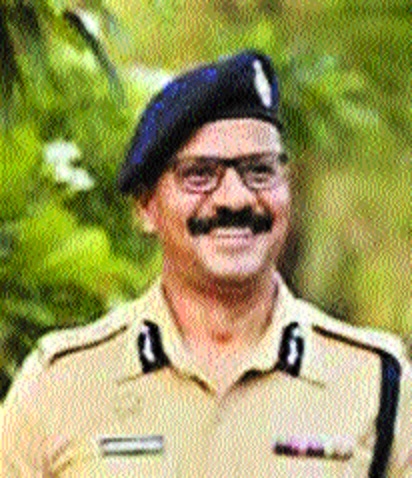 IGP K M Mallikarjuna Prasanna
By Dheeraj Fartode :
CONSTABLE is the face and voice of the police force for the masses. Quality of services rendered by the police depends mainly on the physical, mental and emotional state of the police personnel. In simple terms, if a constable is happy, he will serve the public better. Understanding the need of revitalising the level of police machinery for optimum results, Special Inspector General of Police (Spl IGP) K M Mallikarjuna Prasanna implemented 'Constable first' initiative in Aurangabad Range in October 2020. It has showed great results and now Maharashtra Police have decided to adopt it as a model project to revitalise the force. Prasanna was IGP Nagpur Range before taking reins of Aurangabad Range.
Within a year, the project gave enormous results and showed an impressive boost in morale of police force with service delivery, disposal of cases, increase in conviction rate and detection rate. Observing results of the project, the State police bosses have decided to implement in other parts of Maharashtra. Talking about the initiative, Additional Director General (ADG) Law and Order, Rajender Singh told 'The Hitavada' that being the first responder, a constable's actions initiate public delivery and his/her approach defines public perception. "Hence, to give one's best, the Constable needs to be at his/her best," he said and added, "We have decided to adopt the novel initiative by IGP Prasanna for the entire force after observing the positive impact it has created on the constabulary." 'The Hitavada' also spoke to IGP Prasanna, the man behind the project, to know the constituents of the initiative. He said, parameters that affect the morale and performance of the police personnel were identified through decades long formal and informal interactions, brainstorming with the rank and file of the police department and also the public. "After understanding nuances of each of these parameters, areas that have become the stumbling blocks were identified. A set of measures to address these challenges was devised and executed," he said. "The measures have been initiated by keeping the existing systemic checks and balances as well as monitoring mechanisms intact. It is pertinent to note that this experiment has been attempted without bringing any major administrative or legal changes to the existing set up," IGP Prasanna added.
Initiative yielded positive results
Some positive results of the 'Constable First' initiative in Aurangabad Range were listed before its adoption at the State-level. Under the initiative, a total of 87 police station buildings were beautified with creation of 83 citizen facilitation centres. More than 2,300 unclaimed vehicles were disposed of which were unnecessarily occupying space in police stations. Similarly, 20,053 Muddemal were disposed of by the police personnel in the range. A total of 458 motorcycles were produced to implement beat policing and patrolling. The police traced 681 missing persons and disposed of a whopping 26,267 criminal cases. Results were also visible in conviction rate. The Range recorded a 31.4 per cent conviction rate in 2019 which increased to 44.8 per cent in 2020 and further zoomed to 46.5 per till March this year. The project was divided in nine parts that included defining objectives/targets, sharing these targets with personnel of all ranks, equitable distribution of responsibilities, linking performance with incentives and non-performance with disincentives, creating a vibrant working ambiance, breaking of ice between senior and junior formations, addressing the challenges of police personnel, making the constables stakeholders and using them as force multipliers, recognising and promoting outliers in them as champions, using technology to monitor and improve their performance.