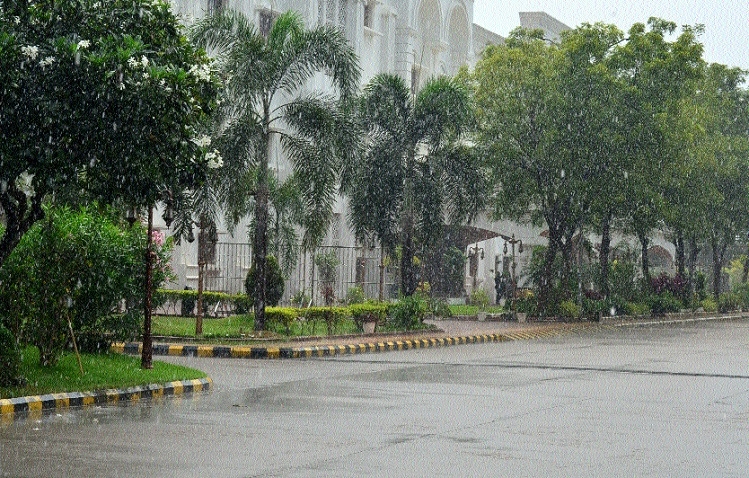 Isolated showers giving respite from the humid conditions in Raipur city on Tuesday.
Staff Reporter :
RAIPUR,
RAIPURIANS were in for a surprise weather twist on Tuesday afternoon, when heavy gush of winds and intermittent rainfall hit the Capital, even as sunrays pierced the cloudy conditions in-between for a change. Though the sudden, yet enjoyable weather twist was short lived, it slowed down the pace of the normal life in the city for sometime. After thundering of clouds, the intermittent rains lashed the Capital, which to some extent helped the settle down the dust pollution and thereby bringing some relief for the people. But then, it was again bright by partly cloudy day for rest of the hours till evening descended. The weather twist, however, according to weathermen, was recorded in isolated pockets of the State, including Capital city. Raipur recorded trace rainfall while Pendra Road received 11.0mm rainfall and Bilaspur as well as Durg recorded 6.6mm rainfall each on Tuesday.
But, for the time being the weather is likely to be dry till October 9. The Met Department has made a forecast of no warning of showers for next four days. Meanwhile, the weatherman has informed that due to the moisture incursion, local development took place resulting in short thunder activities. The capital city experienced rainfall at isolated pockets. However, in the statewide forecast moderate to medium rainfall is expected at few places on October 6. The sky will be normally clear with partly cloudy conditions mainly during evening hours with one or two spells of light rainfall in Raipur on Wednesday.