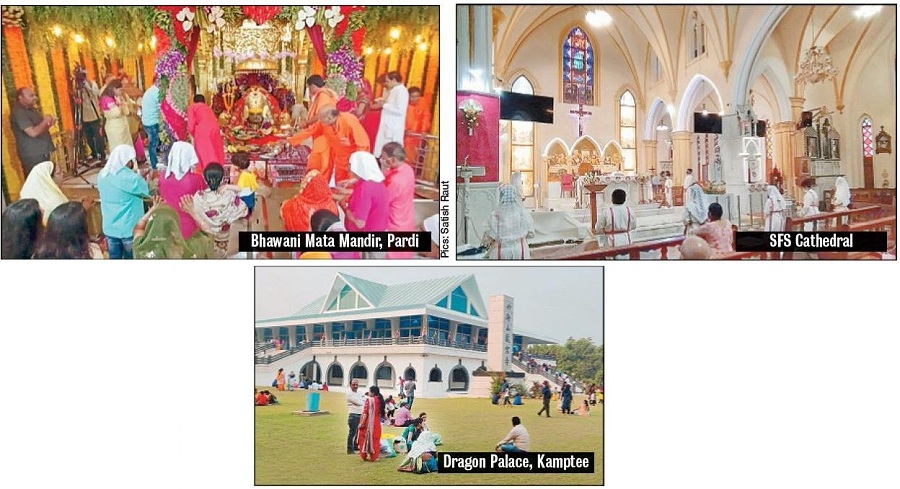 Staff Reporter :
As per the protocol, persons who have taken both the doses of COVID-19 vaccines only are allowed to enter such places
After a gap of one-and-a-half years the devotees and followers stepped inside the religious places as they opened their doors for one and all on Thursday. The auspicious occasion of Navratri was chosen for re-opening of the religious places. Under the shadow of COVID-19 that has brought about forced changes, devotees visited temples, churches, mosques, gurudwaras across city. Across all religions, the visitors adhered to the pandemic protocols. For the devotees and followers who made it a point to be first to visit the religious places, it was an exhilarating experience. Due to the outbreak of novel coronavirus, State Government following the directives outlined by Central Government had put restrictions on gathering of large number of people at one place.
This was done keeping in mind overall safety of citizens as the deadly virus was contagious. In between, religious places opened but only for priests. All the temple management committees had made elaborate arrangements as per guidelines issued by the local administration to avoid crowding and for the same they regulated entry allowing only minimum number of devotees at a time. The administration had decided to re-open religious places during Navratri as devotees were longing to pay obeisance in person. As yet their was no huge rush at the religious places but the same may pick up in days to come as citizens shed their inhibitions and get back to their regular visits to temples, churches, mosques and gurudwaras. Before COVID-19, Navratri festivity used to witness huge rush at temples of Goddess Durga. Maa Jagdamba Temple at Koradi would witness serpentine queues through the nine days of Navratri. Same scenes of devotees thronging the temples would be seen at Agyaram Devi and also at Pardi.
As per the protocol in place, persons who have taken both the doses of vaccines are allowed entry and this too explains low footfalls. Children below the age of 18 years are not allowed to enter the temple and this explains low footfall on day one. Managements of religious places are spraying the disinfectants within the premises. Similarly, at entrance of religious places the sanitizers stand stood out prominently and devotees to made it a point to cleanse their hand before stepping inside. Agyaram Devi in the city, Bhavani temple at Pardi, Mahalakshmi temple in Koradi, Devi temple in Rana Pratap Nagar, Ayachit Temple, Tekdi Ganesh temple, Sai Baba temple on Wardha Road, Poddareshwar Ram temple, Swami Samarth Temple in Besa, Tajuddin Baba's abode at Tajbagh and Badi Masjid at Mominpura, All Saints Cathedral Church, Sadar, Buddhist monasteries and other places of worship opened for devotees. Devotees were guided by volunteers to ensure that social distancing was maintained and crowding was avoided. At Kamptee, Dragon Temple also opened its doors to devotees on Thursday.