SC terms Lakhimpur killings 'unfortunate'; seeks status report from UP Govt today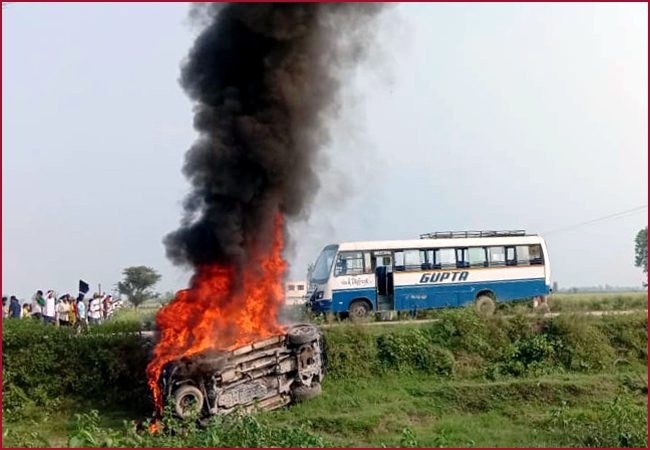 NEW DELHI :
TERMING "unfortunate" the killing of eight people including four farmers in the October 3 Lakhimpur Kheri incident, the Supreme Court Thursday sought a status report by Friday from the Uttar Pradesh Government on the accused named by the police in FIR and whether they have been arrested. The apex court has also sought details of the Special Investigation Team (SIT) and the judicial enquiry commission, reportedly set up by the State Government. The incident, which triggered a major political storm with the Opposition parties accusing the BJP Government in UP of shielding the culprits, was heard by a bench headed by Chief Justice N V Ramana as a suo motu (on its own) case. "You yourself have pointed out, it has also been reported and it is in the letter petition, which we have received, that eight persons, some of them are farmers and one is journalist and there are other persons also who have been killed. These all are unfortunate incidents in which different persons have been murdered," the bench said.
"We need to know who are the accused persons against whom you have registered the FIR and whether they have been arrested or not. Please explain this in your status report," it said and fixed the case for hearing on Friday. The bench, also comprising justices Surya Kant and Hima Kohli, started by saying, "Grievance is that you are not looking into it (incident) properly and the FIR is not registered properly," Lawyer Garima Prasad, appearing for the State Government, also termed the incident as unfortunate and said that an SIT and the judicial commission of inquiry have been set up by the government and she may provide the details in the status report.
"I can get details by tomorrow... The judicial commission of inquiry is being led by a former judge of the Allahabad High Court judge", she said and sought a copy of the letter whose cognizance has been taken by the bench. "You also tell us about the status of the PIL before the Allahabad High Court in the case...tomorrow we are listing. Get all the instructions," the bench observed orally. During the brief hearing, the CJI referred to a message to the court.