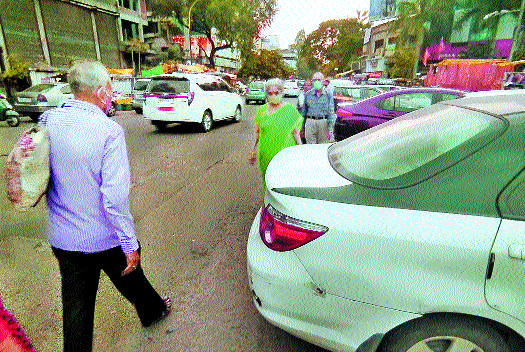 I wish to highlight the insults and humiliation of senior citizens of the city due to non-availability of footpaths for walking. There is a perennial danger to their lives as they have to walk on road along with vehicular traffic.
Recently, after a gap of almost a year, we had to walk on the road from Laxmi Bhawan Square to Ram Nagar Square to meet our Chartered Accountant. Since hundred percent of the footpaths along this stretch have been encroached upon and occupied, everyone has to walk on the road. While returning after 7 pm, we were walking on the road.
Suddenly, a car overtook us and by pushing me physically, halted. I was hit a bit and shocked. Two boys jumped out but instead of saying sorry they shouted at me and my wife saying we are blind. I told them to behave but they were in a mood to pick up a fight and challenged me for a showdown telling us that we are lucky to be alive; otherwise, it would have been our last day. They rudely asked us whether we had any children or not. Otherwise, who would have performed 'shraadhdha', they asked. Both the boys were lawyers as told by one of them. Every senior citizen in Nagpur faces this predicament on regular basis as no footpaths are available for walking in Dharampeth area. Time and again, I have written about it, but civic authorities are not bothered to control the menace of encroachment. It is extremely humiliating to undergo such insults for no fault of ours. Could something be done to make our city orderly, lively and beautiful? Political and administrative fraternity must resolve the recurring problems.
(The author is a retired General Manager In-charge (Excv), WCL.)